Brussels
Belgium's capital has often called the 'Capital of Europe', due to  the many international organizations that call Brussels home. Since  World War II, it has become the administrative center of organizations  including the European Union (EU), the North Atlantic Treaty  Organization (NATO), the World Customs Organization and EUROCONTROL, to  name only a few. So, if you intend to study politics, international  relations or perhaps translation studies, Brussels is probably your  go-to Belgian city.
The city itself goes beyond its reputation as a center of  administration and bureaucracy, offering a thriving nightlife, a  world-class collection of restaurants, cafés, bistros and bars, and a  unique selection of shopping experiences including open air markets and  'galleries' – the latter are historic, covered shopping streets.  Although smaller than most European capitals, cosmopolitan and  multilingual Brussels offers plenty in the way of culture and  recreation.
Notable universities in Brussels include the Dutch-speaking Vrije  Universiteit Brussel (VUB), ranked 182nd in the QS World University  Rankings® 2016-2017, and the French-speaking Université Libre de  Bruxelles (ULB) which is ranked joint 216th. As both of these  universities translate into English as the 'Free University of  Brussels', the translation is rarely used to refer to either university.  Other prominent universities in Brussels include Facultés  Universitaires Saint-Louis, Hogeschool-Universiteit Brussel and the  Royal Military Academy. Several international universities also have  campuses in Brussels, including the University of Kent's Brussels School  of International Studies and Boston University Brussels.
---
Leuven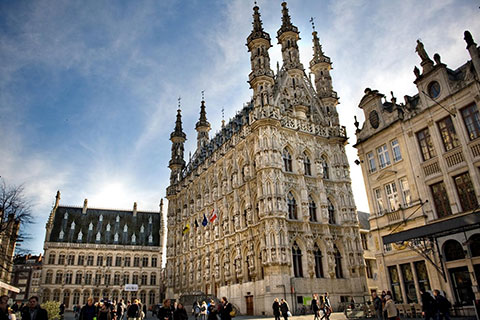 Home to the world's largest brewer group (Anheuser-Busch InBev), and  one of the largest hospitals in Europe (UZ Leuven), Leuven is also known  for its notable medieval buildings, annual summer music festival  Martrock and its famous Arenberg Orchestra, one of many orchestras based  in Leuven. The city also has a rich beer culture, with bars offering a  wide variety of local and international varieties – including one bar  that claims to offer more than 3,000 different beers! Make sure to pay a  visit to the Oude Markt and its numerous pubs, bars and cafés, which  have earned it the title of the 'the longest bar in the world'. While  you're there, see if you can spot the nearby Fons Sapientiae (fountain  of wisdom), a famous symbol of Leuven's student city status.
During term-time, students are a major presence in the city. Leuven  is home to the highest-ranked Belgian university, Katholieke  Universiteit Leuven (currently 79th in the QS World University  Rankings). Also known as KU Leuven or the University of Leuven, this is  Belgium's largest university, with more than 57,300 students. It's also  believed to be the oldest university in Belgium, and the world's oldest  Catholic university still in existence.
Other universities in Leuven include the autonomous Vlerick Business  School (a management school shared by Katholieke Universiteit Leuven and  Ghent University), as well as a number of vocational universities such  as the Katholieke Hogeschool Leuven (KH Leuven) and the university  college Groep T (Group T), which offers engineering and teaching  courses. Leuven is also home to one of Belgium's most famous  conservatories, the Lemmens Institute, which is especially well known  for its music therapy programs.
---
Liège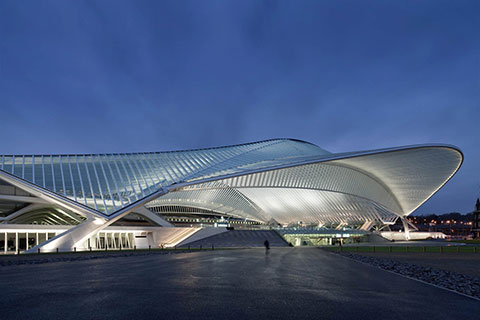 Liège is a large industrial city in Wallonia, serving as the region's  principle economic and cultural center. While its main industries are  coal, steel and gunsmithing, Liège is also well known for its crowded  folk festivals, nightlife, annual jazz festival, alternative cinemas,  and for hosting one of the oldest and biggest Christmas markets in  Belgium. The city also boasts one of Europe's strongest digital,  technological and internet-oriented services industries.
Other attractions in Liège include a range of museums, 16th and 17th  century architecture, the 400-step stairway "Montagne de Bueren", and  the Saint Nicholas festival – organized by and for university students,  involving dressing up in dirty lab-coats and begging for money for  drinks. Liège has a pedestrian zone known locally as 'The Square' where  you can find plenty of pubs, many of which stay open until 6am – or  until the last customer leaves. Liège is also home to a large Italian  community, along with large numbers of Moroccan, Algerian, and Turkish  immigrants.
The city is a major educational hub, home to over 20,000 students,  both local and international. The University of Liège is ranked joint  315th in the QS World University Rankings 2016-2017, and is also known  for its HEC Management School. Other prominent higher educational  institutions in Liège include ISA Lambert Lombard (the Faculty of  Architecture of the University of Liège), the Académie Royale des  Beaux-Arts de la Ville de Liège (arts school offering undergraduate and  graduate courses) and La Haute Ecole de la Province de Liège (college  providing undergraduate and graduate degrees).
---
Antwerp
The second-largest city in Belgium, Antwerp is well-known for famous  Flemish painter Sir Peter Paul Rubens, diamonds (more than 70% of all  diamonds are traded in Antwerp), fashion (of particular note are the  Antwerp Six) and for having the second-largest port in Europe. The city  also offers a range of interesting attractions, including the Gothic Cathedral of Our Lady and the prestigious Royal Fine Art Museum, as well as many historical buildings from different periods. Even Antwerp Zoo,  one of the oldest in the world, boasts impressive 19th century design and architecture.
As you might expect from its strong association with fashion, Antwerp  is known as something of a trend-setter. Intellectuals, actors, musicians, writers and painters spend their time in the city's many  trendy bars, cafés and shops – or, indeed enjoying its flourishing jazz  scene. Antwerp is also famous for local products such as Bolleke (an  amber beer), Elixir D'Anvers (a locally made liquor), and hand-shaped  biscuits (connected to local folklore).
Among universities in Antwerp, the most prominent is the University of Antwerp, ranked 209th in the QS World University Rankings and, with 14,000 registered students, the third-largest university in the Flemish  region. Antwerp also has several university colleges, including  Charlemagne University College (Karel de Grote Hogeschool), Plantin University College (Plantijn Hogeschool), and Artesis University College Antwerp.
---
Bruges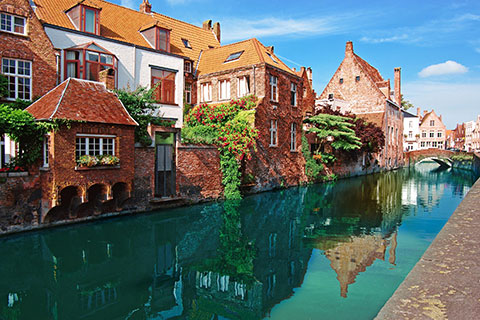 Bruges is known for being one of the most perfectly preserved  medieval cities in Western Europe, and its historic city center is a UNESCO World Heritage Site. Its narrow canals and ancient buildings mean Bruges is sometimes referred to as "The Venice of the North". The city has many famous buildings and landmarks, including an impressive 13th century belfry. Bruges also has a collection of medieval and early  modern art, along with plenty of theaters, concert halls, museums and cinemas. The city is host to a range of cultural, music and food festivals and is the starting town for one of the biggest sporting  events in Belgium – the Tour of Flanders cycle race.
While its constant influx of visitors gives Bruges a tourist town  feel, there's plenty for students too. The city is an important center  for education, with notable universities in Bruges including the  Katholieke Hogeschool Brugge-Oostende (KHBO) and the Hogeschool West-Vlaanderen (HOWEST – Howest University in English). Bruges is also the main campus for the College of Europe, which offers postgraduate  studies with a focus on European economics, law and politics. Also based  in Bruges is the United Nations University Institute on Comparative  Regional Integration Studies (UNU-CRIS), a research and training  institute of the United Nations University.