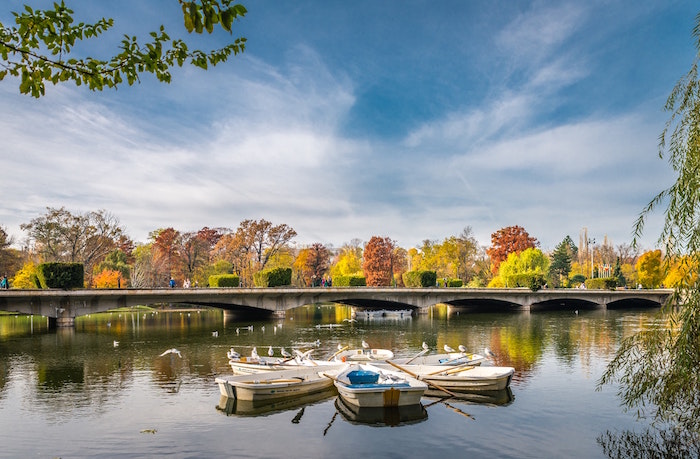 Photo by Stefan Trasnea via Unsplash
By Sonia Azalia
Studying abroad should not just be about, well, studying.
You shouldn't fly to a far-off country just to spend all your weeks stressing out through piles of books and unfinished papers, rather, this should also be an opportunity for you to step out of your comfort zone, challenge your perspectives and explore the country you've committed to live in for the next few years.
Romania is the perfect place for an alluring and inspiring exploration, for it doesn't just offer a prestigious higher education (check out Romania's top universities here), but its natural beauty, cultural diversity and medieval enchantment are a uniqueness of its own, preserved brilliantly in its landscapes and architectures, with seven spots listed as UNESCO's World Heritage Sites.
Amongst more worldly known European countries, Romania is an undiscovered wonderland.
Here we highlight some of the places that makes Romania an "attractive" destination and how it portrays the country's true inspiring nature:
1. Medieval Castles and Citadels
All around the cities, towns and small villages are infinite arrays of preserved fortresses and churches waiting to take visitors back in time.
You might be familiar with Stoker's Dracula.
The "Dracula Castle" is a commonly known name for the Bran Castle, one of the many Gothic castles perched high up on the mountains and valleys. Others include Peles Castle, considered as the most beautiful castle in Romania, Fagaras Fortress, one of the largest and best preserved feudal castles in Eastern Europe, alongside the gorgeous Alba Carolina Citadel, and Corvin Castle, the Gothic monument that sums up all the dark history and eeriness of Transylvania.
2. Vibrant Old Towns
Preserving the medieval doesn't always mean having the surroundings remain as crumbling ruins and haunting lords.
A fine example would be the best preserved fortified medieval town in in Sighisoara, Transylvania. It is a place of narrow cobblestone streets and nostalgic Gothic and Saxton architecture of pastel-colored houses towered by burgher houses, ornate churches and mighty watchtowers.
Did we mention this is also where the real Dracula, Vlad the Impaler, was born? The magical ambience it gives is even comparable to Old Prague or Vienna.
Bucharest, Romania's largest and city capital is as well comparable to a famous European city. It is nicknamed "Little Paris" for offering luxuries such of that in Paris (with a more affordable cost, even for students): Botanical parks, cafes, antique stores and vibrant nightlife.
---
Popular University in Romania: Universitatea Babeş-Bolyai
Universitas Populer di Romania: Universitatea Babeş-Bolyai
---
3. Breathtaking Natural Landscapes
Even as you travel further from the cities to the small villages and beyond, its surroundings are no less a delight to the eyes.
You'll be in awe in witnessing how Romania highly values and guards not just its history and folklore, but its natural resources too.
Romania's asset includes the Danube River, the second largest and best preserved river delta in Europe rich in flora and fauna, and the Carpathian Mountains, stretching west to east in an arc, with a fraction of it in Romania's land as spruce forests bearing home to brown bears, wolves and lynxes.
By these mountains is also where the Transfagarasan Highway is located; the "greatest road in the world" with its crazy hairpin turns and impossibly steep descents.
4. World's 'Cheerful' Cemetery
When cemeteries are commonly creepy or gloomy places, the Merry Cemetery (Cimitirul Vesel), tucked away in Sapanta Village, is otherwise.
Instead of grey rock, the tombstones are made of hand-painted wood, with carvings of colorful, whimsical cartoons and poems that satirizes with the life of those buried there. Instead of a graveyard, it becomes one of Romania's open-air museum and tourist attraction.
This "quirky" take of death is a portrayal of the belief, influenced by Dacian costumes, that death is just another adventure; a spiritual journey that should be taken light-heartedly instead of it being mournful.
---
For more information on studying in Hungary, check out our country page here.
Untuk informasi lengkap mengenai Kuliah di Hongaria, klik di sini