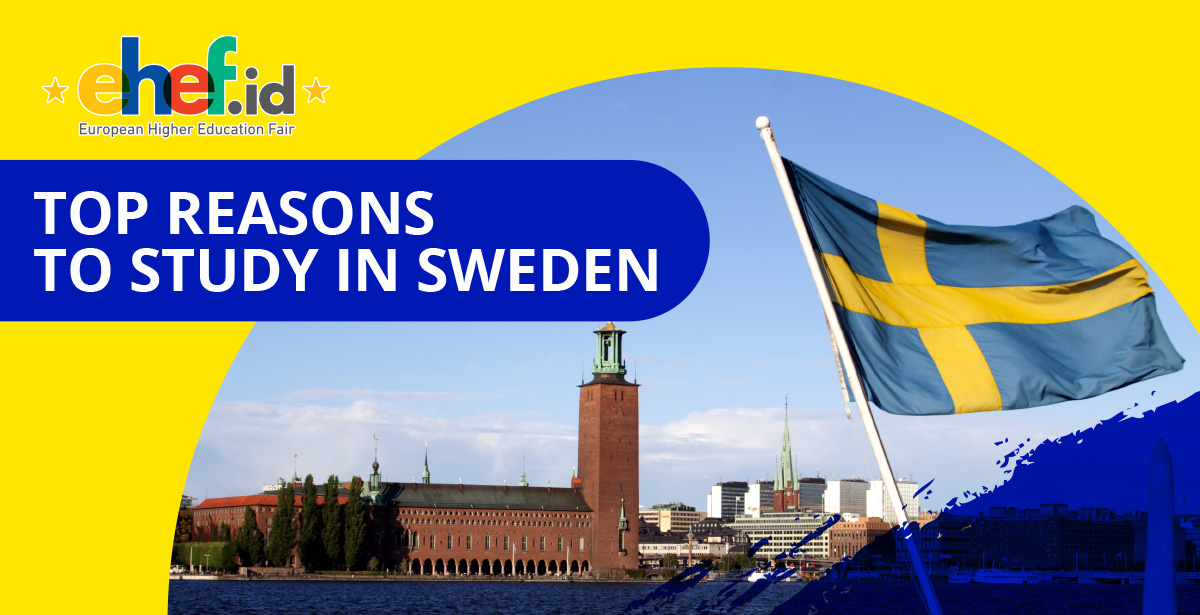 by Jenny Egnér Lin
---
Curious about studying in Sweden? The nature, living standards, and advanced technology are some of the perks of living in Sweden. However, there is much more to Sweden than what is visible on the surface. Social systems, infrastructure, and a liberal culture are other supporting functions enhancing life quality. Here are the top 10 reasons for studying in Sweden.
1. Living standards
Sweden consistently ranks high on lists of the countries with the highest living standards in the world. The tap water in Stockholm has been tested to be as pure as bottled mineral water from brands such as Evian. Due to the need to withstand cold winters, housing in general has efficient insulation and heating, and advanced electricity, water, and sewage systems.
2. Social systems
With a stable government and nearly non-existent corruption in the country, the high taxes provide many perks and support for citizens. Free education, highly subsidised healthcare, and well-maintained infrastructure are offered to all residents. Striving to be proactive rather than reactive, taxation strategies look to the greater good for citizens. As an example, free education and vaccinations for all children lead to a healthier population.
3. Education
Sweden is home to some of the best universities in the world. The medical university Karolinska Institutet is ranked the 40th best university in the world in all categories, by World University Rankings 2019. For business studies, Stockholm School of Economics is the top university, consistently ranking high in business school rankings. Uppsala University and Lund University are two of the oldest, renowned institutions of higher education in the world, founded year 1477 and 1666 respectively. They are both among the top 100 universities worldwide in several high-profile international rankings.
4. Working conditions
The working conditions in Sweden are among the best in the world. Most companies give full-time employees six weeks of paid vacation per year and a number of healthcare benefits, insurance, and pension schemes. Working hours are regulated, with a standard of 40 hours per week, and employers required to pay for overtime work. In short, being employed by a Swedish company means being in good hands.
5. Freedom of expression
Being one of the most liberal countries in the world, the Law on Freedom of Expression is one of the four foundational laws in Sweden, the others being the Instrument of Government, the Freedom of the Press Act, and the Act of Succession. In daily life, it means that you are free to express your opinions in speech and print, criticise the government without risking repercussions, choose religious affiliation, and live your sexual orientation, supported by a strong LGBTQ community and legalised same-sex marriage.
6. Nature
Volumes of books could be written about the serene and particular nature in Sweden. One of the least densely populated countries in Europe, Sweden is to 80 % covered in forests and lakes. With the freedom to roam (in this case related to nature, and not in regards to internet), you are welcome to hike and camp in freely in nature. This principle is protected by law, encouraging people to enjoy the natural environment surrounding them. The only thing you need to give in return is to respect nature and wildlife, leaving the land as beautiful as you found it.
7. Midnight sun
Look to the sky to experience yet another stunning natural occurrence. Above the polar circle, the sun never sets below the horizon for six months of the year, and for the other half of the year, the sun never rises, leaving the people and wildlife to live in darkness half of their lives. Even in the bottom third of Sweden, where the three largest cities are located, the changes in sunset and sunrise times have a visible effect during the year. In Stockholm, the sun sets at 10:45 pm at the latest at summer solstice in June, while winter solstice entails sunset at 2:45 pm.
8. Infrastructure
Even the most remote areas in Sweden have access to strong infrastructure systems. Electricity, IT, and transportation is readily available from the far North to the large cities in the south. The main cities provide public transport with generous coverage and operation hours. Stable internet and electricity, in combination with cold weather has made Northern Sweden attractive an attractive location for data centres and server storage for large corporations such as Facebook.
9. Recycling and waste management
Sweden is aiming for a zero waste society. Sweden is so good at recycling that it imports trash from other countries to keep it's recycling plants going. Waste that cannot be recycled is burned in factories and used as energy for housing and buses. Less than 1 % of the total trash is sent to landfills.
10. Innovative companies
Sweden is the birthplace of some of the most innovative companies in the world. Spotify, Skype, Soundcloud are just a few examples of the vast number of pioneering businesses founded in Sweden. It takes 5 minutes to register a company with the taxation system, and with simple, user friendly support systems within government bodies, and a number of private investment companies and startup accelerators, Sweden provides fertile soil for groundbreaking companies.
---
About the author: Jenny Egnér Lin is born and raised in Stockholm, Sweden, and holds a B.Sc. in Business and Economics from Stockholm School of Economics and a M.Sc. in Strategic Market Creation from Copenhagen Business School. With firsthand experience from studying in Scandinavia, she is sharing prime insights about student life in Northern Europe, and Sweden in particular.