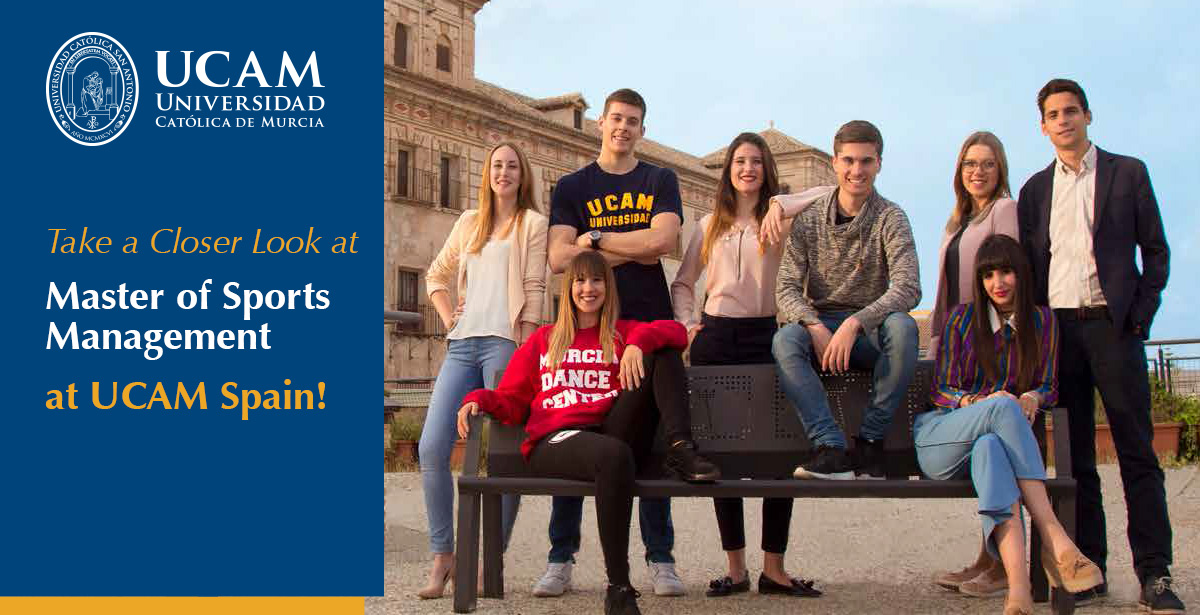 By: Sonia
---
Have you ever thought about pursuing a higher degree in Sports Management?
The sports market is a multi-billion Euro industry, and according to Forbes, is expected to reach $73.5 billion by 2019. Impressive, isn't it?
As the market grows, the industry is in constant demand of fresh, multitalented and visionary managers.
Universidad Catolica de Murcia (Catholic University of Murcia), known as the University of Sport in Spain, is an excellent choice to pursue a degree in Sports Management. Their distinguished reputation in producing the very best atheletes has proved them to obtained more Olympic medals in 2016 Olympics hosted in the city of Rio de Janeiro, right after University of Stanford.
Accreditation and location are two significant considerations to be made, and these are the strong factors that distinguishes UCAM's Faculty of Sports from other sports campuses.
Building a career in this dynamic industry takes more than just the passion for the sports and skills in finance and communication. MBA Sports Management is an exciting field that welcome individuals, both professionals and those wanting to further their careers in the sports managing field, from the business, communication, social, political and even sports-related fields.
What the Programme Offers
MBA Sports Management at UCAM is a one-year course taught in English. Details on the admission and registration process can be read here.
UCAM understands that pursuing a Master's degree, especially for international students, is not cheap. Therefore, the UCAM site provides a rough estimation of the overall cost of living in Murcia (see database here, and an interactive housing database, in collaboration with housing anywhere, to find the right accommodation suited for their needs.
In terms of the payment itself, the international educational trip is already included in the price. Professional and elite athletes can also be considered for a partial or full coverage of their tuition fees.
UCAM also offers to international students a welcome pack with a 300 euro value which includes, among other services, UCAM Sports Center membership, season tickets UCAM CB Basketball and UCAM CF football.
Study Flow and Experience
The average sports manager deals with a team, with products, the market and the complex connection that is to be maintained between those three elements—so a constructive curriculum and effective teaching method is necessary.
1. Method of Teaching
The method of teaching, taught by experts directly from the field, is a fine balance between theoretical and hands-on. Throughout the year, there are classroom lectures, practical classes, tutorials, and evaluation done between teacher and student, and works that are done independently (can be done virtually as well) such as personal study, reading and research, problem solving and practical work.
2. Details on Courses
Module I introduces students to The Fundamentals, which is the legal aspects within a sports organisation (such as sports regulations, workers' rights, athlete contracts, development policies or the organisational structure of sports entities) and research methodology (how to conduct research and compile reports systematically).
Module II explores Marketing and Communication. Students will learn marketing concepts, communicating with clients and how to secure consumer loyalty. The course Sports Communication and Protocol specialiSes on improving one's communication skills, such as corporative communication, campaign case studies, and communication strategies in sports entities and institutions. This is an important field to be specialised, for the ability to communicate a message to a target audience is critical for success in sports management and administration.
Module III is about Planning, Human Resources and Financial Management. Through this course, students will harness their leadership skills. In an industry as dynamic and complex as the sports industry, efficient planning, control, organisation and the management of staff are needed. Students will learn Strategic planning (prepare strategic plans, master information applied to planning, and so on) and financial planning (dealing with budget, incomes, investments, capitals and budgets).
Module IV, which is about Sports Quality, Facilities and Equipment, takes students deeper into what the world of sports provide. The subject Morphology and Planning of Sports Facilities and Equipment leads students through the entire process of building and maintaining a sports facility. The course Organisation & Management of Sports Services and Events in Facilities is about understanding the management of sporting events, such as organising, evaluating and controlling various events. Visits to facilities and participation in real life events are also part of this subject.
Module V, is the start of the internship programme, or placement programme. This programme dives students into the professional work environment and have them apply all the skills and knowledge they've acquired from the courses. You can read about this further in its own section down below.
Module VI is the Final Thesis, where students are expected to translate all the knowledge they've acquired and their idealism to an original piece of scientific work. The content can focus on one or more of the themes that the student find most interesting in, and should relate to what was generally learned throughout the courses and the external work placement. Students will have a guideline to follow and a tutor to be assisted.
3. Study Trips
To better corroborate what have been learned, students will be taken out to various public and private institutions, as well as facilities concerned with the organisation of sporting events. The sports complexes to be visited are within the community of Madrid.
The highlight of every alumni's studying experience is the international trip to Dubai and Doha, where students are taken to the most innovative facilities. You can check out the list of places here
4. Internship
Internships are a great place to kickstart one's professional career, even for those who haven't had any previous experience in sports management.
Students can place themselves in a professional or amateur sports company, service or organisation. The areas of the work placements will be focused on: Public Entity Management, Private Entity Management, Sports Services Management, Sporting Events Management and Sports Facility Management. Students will have the option to choose, or have the university choose a place for them. Throughout completing the 200 hours work placement, the student's progress will be guided and monitored by a member of the company.
While discovering different spheres of sports management, students will be able to work closely with leaders of the sports sector and learn from them. Example list of places where students can intern at are:
• Generation International Adidas
• Kick4Life
• Málaga CF
• Oviedo SAD
• Eibar SD
• Atlético de Madrid SAD
• Chelsea Foundation
• ACB
• Spanish Soccer School (Dubai)
Iulia Necula, an alumni who was already an athlete, earned the benefit of the internship programme:
"As a professional athlete and Olympian (Beijing 2008), here at UCAM I had the unique opportunity to combine my professional career with the academic study. After graduating my Bachelors in Sport Science and Tourism I decided to go for MBA Sports Management and it turned out to be the best decision I made. Not only I got to learn from the best professionals in the branch but I also got the possibility to do my internship and work with many Sport Institutions and Clubs that collaborate with the University. The knowledge and the experience acquired helped me furthered my career and entered into the world of Management which would have otherwise been impossible. At UCAM I had the chance of doing from my passion, my work."
Graduate Employability
UCAM has an accreditation that is undoubtedly valuable in the working world, so graduates are guaranteed to have good graduate employability. They will be qualified to:
Correctly and accurately interpret the law regarding sports by which both public and private sports organisations are governed. Manage quality processes and policies in sport organisations. Resource planning (human, organisational and financial) of sports institutions. Manage any type of sports facility in a sustainable manner. Organise sporting events at local, national and international levels. Create a communication plan for organisations and sports events. Research and teach sports management Pedro Pemartin, an alumni who was already working professionally at the field, felt the benefit of this course on elevating his career:
"Sport has always formed an integral part of my life. From an early age I have practiced and followed many different sports, particular indoor football, to which I reached a semi-professional level. My previous degree was in Business Management and Administration. After more than 5 years of working in different industries, I took the life-changing decision to study MBA Sports Management at UCAM, and it has been the most rewarding decision I have made. This MBA has given me the opportunity to carry out an internship in the LFP (Spanish Football League) after which I was offered a permanent job as head of marketing at the LFP-UCAM Sports Management Institute. In addition I am in charge of the organization of international sporting events such as football tournaments, mountain bike races and trails. I feel that I have fulfilled a life-long dream of working in sports which has always been my passion, and I feel that I am developing professionally within an industry that is dynamic, international and fast-paced."
Again, since the sports industry is ever expanding, there is a vast array of career opportunities and a wide range of professional roles waiting to be filled.
So, will you consider pursuing this exciting degree?