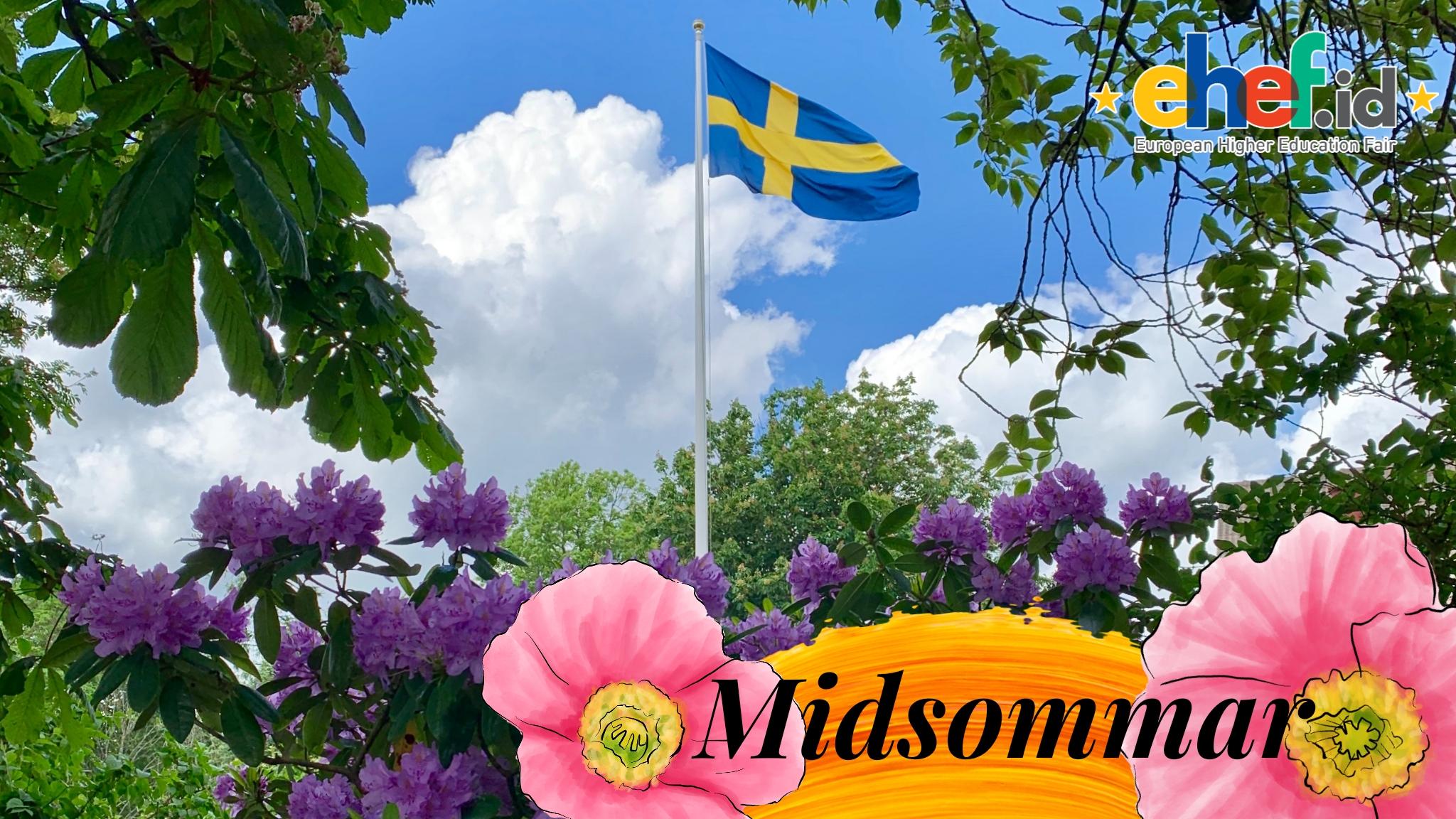 By Jenny Egnér Lin
---
In Sweden, Midsummer is one of the most important holidays in the Swedish calendar. For some, it's the best holiday. The arrival of summer solstice is celebrated with friends and family by eating smörgåsbord, drinking snaps, and dancing around a maypole.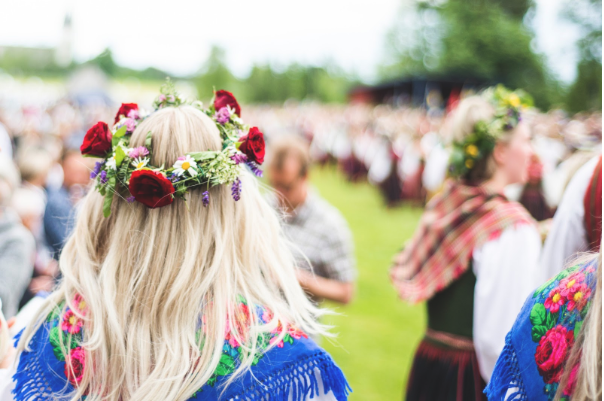 Photograph accredited to Per Bifrost / imagebank.sweden.se.
What is Midsummer?
Summer solstice
The Christian tradition of celebrating the prophet St. John the Baptist on June 24 coincides with the summer solstice. In Northern Europe, the date is still celebrated with the lighting of bonfires and festivities.
In Sweden, Midsummer Day falls on a day between 19-25 June, with celebrations held on Midsummer Eve and Midsummer Day.
Magic and mystery
In the agrarian society, the midsummer night was considered a time of magic and mystery when plants acquired healing powers and were used to predict the future. Young women would pick seven different kinds of flowers and put under their pillow to dream of their future husband. The flowers must be picked in silence, or the magic would be broken.
Walking barefoot in the dew as the midsummer night turned to dawn helped you stay healthy. Wearing a wreath of flowers in your hair is an old symbol of rebirth and fertility. To preserve the flowers' magic throughout the year, bouquets were dried and sometimes placed in the Christmas bath to keep the family healthy through the long, cold winter.
Still today, some girls pick flowers to put under their pillow, out of curiosity to see who they might dream of. Making your own flower crown with hand-picked flowers, is a popular pastime resulting in a beautiful adornment for this special day.
How do you celebrate Midsummer?
Food and drinks
Like all major holidays, midsummer revolves around eating and drinking. The midsummer smörgåsbord contains a few musts: fresh potatoes, pickled herring, gravlax (cured salmon), meatballs, snaps, and strawberries. When combined, they will give you the taste of real Swedish summer.
Smörgåsbord
The traditional food served at midsummer is part of the Swedish smorgasbord that Swedes also enjoy at Easter and Christmas. It developed during the 1800s and stems from the 'brännvinsbord' that was served as a starter, consisting of bread, butter, cheese, salmon, anchovy or pickled herring, sausages, dried meat and three kinds of brännvin aka aquavit. An old fashioned 'brännvinsbord' can be seen at the Nordic Museum in Stockholm, which has several traditional table settings on display.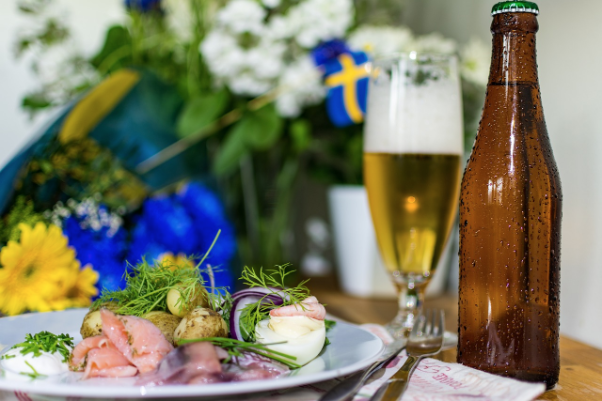 Photograph accredited to Pasi Mämmelä / Pixabay.
Potatoes
At midsummer, fresh new potatoes, in Swedish called färskpotatis, cooked with dill are a classic. Small, and with thin skin that is gently scrubbed, they make lovely companions with pickled herring, gravlax and Swedish meatballs.
Herring
Pickled herring comes in many flavours and can be found in all food stores. Serve at least three kinds on your smörgåsbord.
Strawberries
The meal is finished off with fresh strawberries - either served with whipped cream, or assembled in a strawberry cake. Any Swede will tell you that Swedish strawberries are the best, and they may be right. Due to the long, bright and cool spring nights Swedish strawberries don't burn their sugar as quickly, making them sweeter.
Jordgubbstårta
A homemade Swedish strawberry cake is the sweet finale of a Midsummer feast. It is quite an easy cake to make - essentially a sponge cake filled with vanilla cream, strawberry jam and decorated with whipped cream and fresh strawberries.
Photograph accredited to Alexander Hall / imagebank.sweden.se.
Snaps
Systembolaget is the government owned liquor outlet and the knowledgeable staff will help you choose snaps and other beverages. Stores are closed on Sundays and major holidays so plan your visit in time for midsummer!
Drinking songs
A vital part of enjoying snaps is the toasting and singing. For each toast a new song is sung. The most popular drinking song is 'Helan går'. The name meaning 'the whole goes (down)' refers to the drink being the first in a series of 'snaps'. For non-Swedish speakers, there is an English version called 'Hell and Gore', which is a phonetic, humourous translation of the Swedish song.
Drinking songs are unique to Sweden (and the Swedish speaking parts of Finland) and new ones are composed by using known melodies and making up lyrics. The Museum of Spirits in Stockholm has collected more than 12,000 drinking songs. If you were to sing one drinking song every day, they would last more than 32 years! For students of large Swedish universities, you might recognise some songs from student dinners.
Maypole
From the late Middle Ages, Swedes began raising and dancing around a midsummer pole. Decorating it with flowers and greenery is called 'maja', so it is also known as a maypole. The maypole represents fertility and health, and people of all ages sing and dance around the maypole.
One of the most popular songs is called 'Små grodorna', meaning 'The Small Frogs', and is sung while hopping around like a frog around the pole.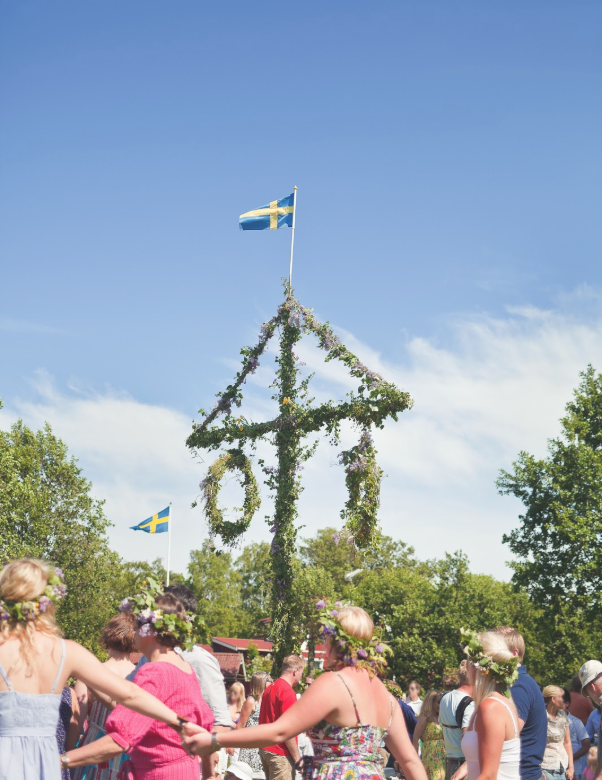 Photograph accredited to Conny Fridh / imagebank.sweden.se.
Where can you celebrate Midsummer?
There are many places to celebrate Midsummer. Most often, Swedes travel to the countryside to celebrate with family and friends. Many cities turn quiet, although there are festivities arranged in the major cities.
With a local
The best way to celebrate Midsummer, is to join Swedish friends, to experience a full Midsummer with smörgåsbord, games, and songs.
Dalarna
If you are looking for the full treat including people dressed up in traditional Swedish folk costumes, professional folk music and dancing, parade with the garlands, maypole raising and perhaps even a church boat race, head to Dalarna.
Stockholm
In Stockholm, the best place for traditional celebrations is Skansen. The park will provide all you need to get into the mood - from wreath making to folk dancing.
The Stockholm archipelago with its 30,000 islands and skerries make for a stunning setting. The islands of Vaxholm, Dalarö and Värmdö are connected to the mainland and easy to get to by bus.
The closest islands are Fjäderholmarna, and a ferry will take you there in 20 minutes from downtown Stockholm. Further out into the archipelago you will find islands like Grinda, Sandhamn and Utö.
Gothenburg
In Gothenburg, midsummer celebrations are held at the park Slottskogen, in the amusement park Liseberg, as well as on the islands off the west coast.
Malmö
In Malmö you can visit Folkets Park and places like Borrby, Brantevik Backåkra and Skillinge offer music, dancing and games.
Lapland
In Lapland in Northern Sweden you can add the midnight sun to your midsummer celebration as you dance the night away.
Celebrate Summer like the Swedes!
---
About the author: Jenny Egnér Lin is a Swedish university graduate with a MSc in Strategic Market Creation from Copenhagen Business School, and a BSc in Business and Economics from Stockholm School of Economics. With firsthand experience from studying in Scandinavia, she is sharing prime insights about student life in Northern Europe, and Sweden in particular.