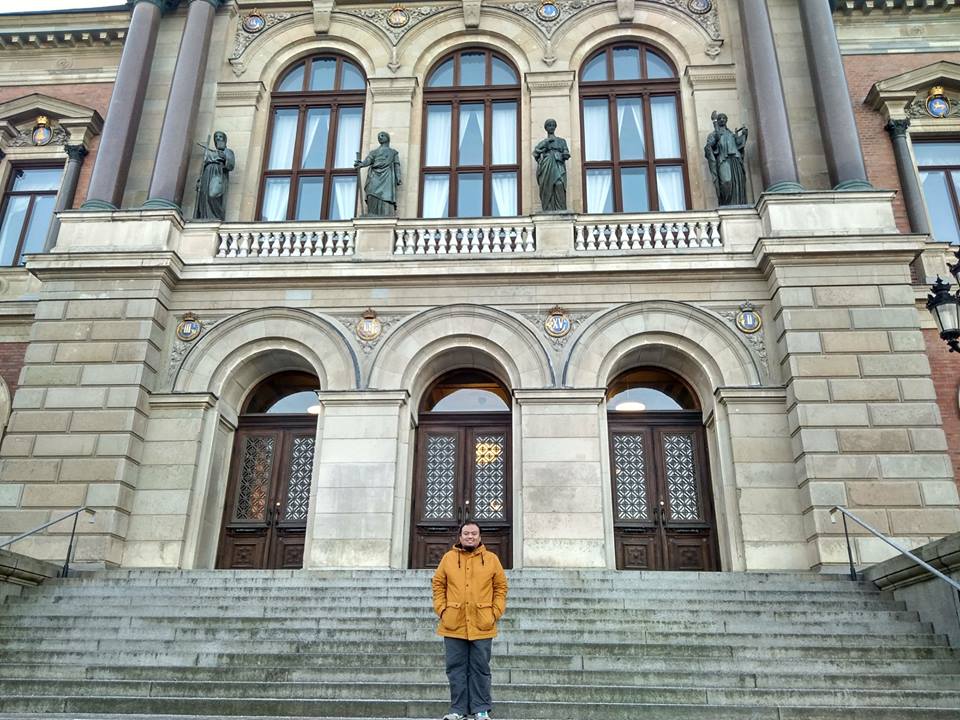 Abdul Rahman Ismail in front of Uppsala University
By Rebecca Isjwara
The Story
Two years.
Abdul has two years before his IELTS score expires.
Upon hearing the opportunities an LPDP scholarship can offer in 2013, Abdul Rahman Ismail started looking at the requirements needed to apply for the scheme. He had then just started his stint as a telecommunications engineer at a multinational company, but felt like he needed more skills and knowledge in order to upgrade himself. He felt that an opportunity to do so overseas would eventually allow him to land a better role in his career, rather than waiting for time to promote him.
From all the requirements listed on the LPDP website, he realised he was only missing one requirement: IELTS. He started studying for it, and looked for a university afterwards.
A year later, he applied for the LPDP scholarship but realised that he couldn't. He was not allowed to apply for a masters programme if he already has a master's degree, and at that point in time he was already a Master of Management from Gadjah Mada university. However, having already set his mind to pursuing a second master's degree overseas, he looked for other scholarship schemes.
He applied to all he could find: Australia Awards in Indonesia, StuNed, a scholarship scheme in Germany, and Chevening (twice). He had failed to win the hearts of all of them. It was 2016, and he had one year left for his IELTS score to be valid.
---
Click here for more information about studying in Sweden
Klik di sini untuk detail lebih lanjut mengenai Kuliah S2 di Swedia
---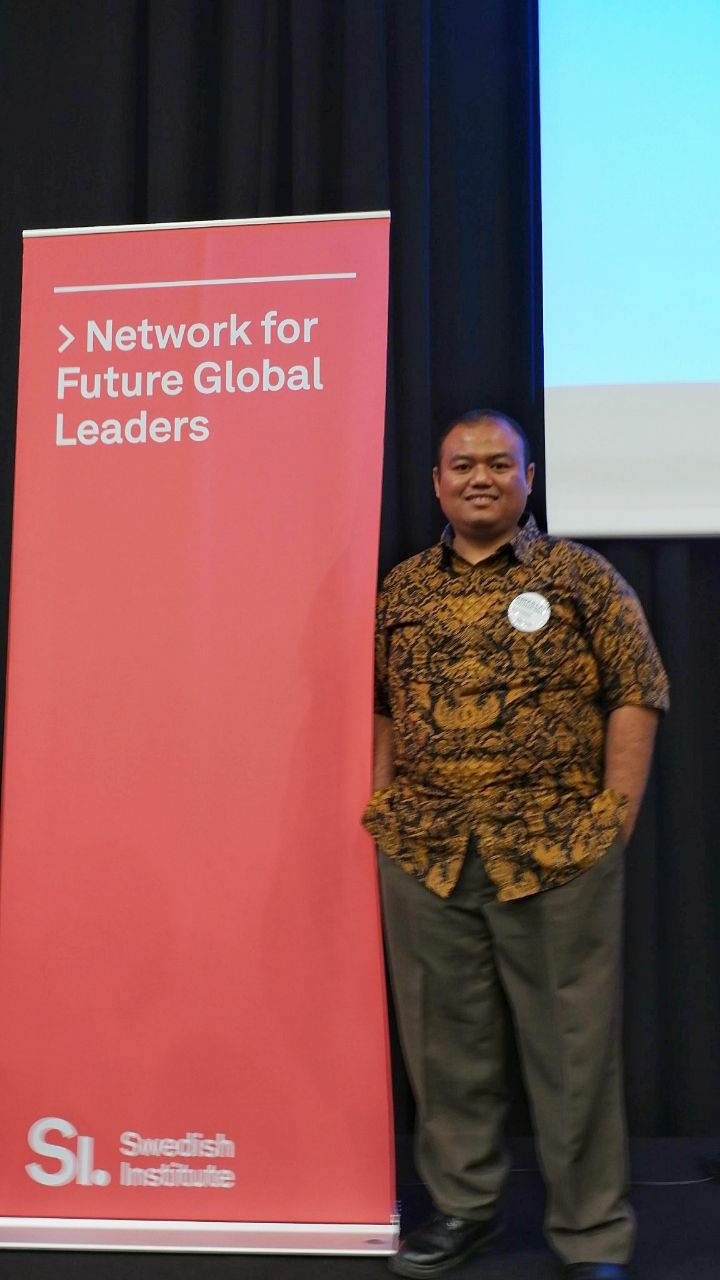 Abdul is a proud Swedish Institute scholar
Abdul quickly looked for other countries that were giving out scholarships. Upon discussing this matter with his colleagues, he found out that his CEO was an alumni of Uppsala University in Sweden. He did his research, and found out that at the time, Uppsala University was one of the best 60 universities in the world (63rd now, according to the Shanghai Ranking). It doesn't hurt that it was only one hour away from Stockholm. That was how he landed on his choice to pursue a university in Sweden, who provided the scholarship he needed.
He applied twice: once in 2016 and another time the year after, 2017. Upon reviewing his attempts in 2016, he changed his strategy and revamped his application for the next year. Right on the deadline, he earned a Swedish Institute scholarship.
Impressions of Uppsala University
Seminars in Uppsala University
There is a lot of group work! Compared to his previous master's program in Gadjah Mada University, he has a lot more group work to do for his courses. Instead of just working on a few cases with his group, he has 6-9 tasks to complete together for each course. His teammates became his prime discussion group to discuss the required readings before presenting their findings to the class in seminars. Case studies are also a popular component, in which each group would discuss, analyse, write reports, and present their conclusions.
The online interface is also a distinctive feature. A student portal allows university students to connect with professors, class coordinators, and teaching assistants. All class material and schedules are uploaded in the portal, and students can submit their work through the same site. Abdul mentions that purchasing books become unnecessary, as the required material is all available on the portal.
---
More details on similar universities (Detail Universitas yang serupa):
---
Tolerance in Sweden
When asked for a memorable experience throughout his (so far) six months in Sweden, he mentioned that the Swedish are extremely tolerant. An issue he experienced was a time clash between Jumu'ah (Friday prayers for Muslims) and his classes. Since the prayer schedule depended on the sun's sky path, there was no fixed time for the prayer. He brought this up to the program director, and the issue was quickly resolved: anytime he has a seminar or presentation scheduled during that time, his time slot was rescheduled.
Tips from Abdul
If you want to go for a scholarship, apply right away. Abdul stated that he waited to apply for the LPDP scheme because he believed that he needed to prepare his IELTS, but within that one year, a new non-double-masters rule appeared, rendering him ineligible for the scheme. He also put his IELTS test-taking off because he felt the need to prepare for it first, and that delay resulted in a chance he would never get back.
As for preparing for IELTS, he notes that a prep course isn't necessary. Abdul himself learned mostly from YouTube and utilised all the channels that taught viewers how to pass the TOEFL or IELTS. Apart from practicing his grammar, vocabulary, and comprehension, he also frequented himself in reading English news from BBC London. He found several free mock tests from the internet, and used that as practice material. IELTS preparation books help, too.
Abdul also would like to remind us at ehef.id that LPDP is not the only scholarship scheme available for prospective students. There are a lot of scholarship schemes out there, and it's important to find as much information as possible and fulfill all the requirements. Note that it is critical to fulfill every single requirement stated on their information sheet, as one minor mistake would cost you an opportunity.
We'd like to extend our gratitude to Abdul Rahman Ismail for contributing to this article. All pictures are courtesy of Abdul Rahman Ismail.