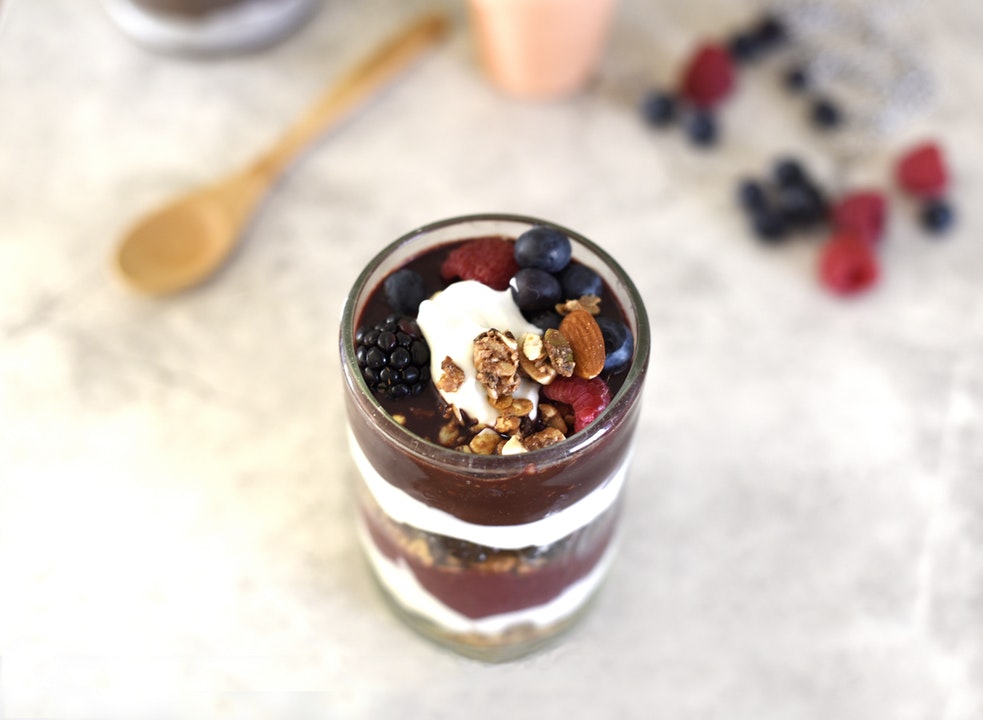 Photo by Sambazon on Unsplash
By Rebecca Isjwara
---
Are you planning to study in Germany? Join Webinar Series - 'Study in Germany' and get the chance to chat with 15 german universities & education institutions' representatives live! For registration and further information about this Webinar click here!
---
You just got off the plane after it landed in Germany, and you step out to take a whiff of the fresh air. Once you've started to regain feelings in your legs after the long flight, you feel the inevitable sink in: your rumbling stomach. Numerous eating options cross your mind, but wait—none of them are German food. What actually is German food, anyway? Here are a few famous dishes that are a must-try upon your arrival in the country, and throughout the period you stay abroad:
1. Schnitzel
The famous Wiener Schnitzel is made from veal, which is meat from young cows, that is sliced thinly and covered with a batter made from flour, egg, and bread crumbs and then deep fried until golden in oil or butter. Although it is often associated with Austrian food, the Wiener Schnitzel is also a famous dish in Germany. There are also several variations of the meat, ranging from chicken to different blocks of cheeses mixed together.
2. Wurst
Wurst means sausage in German, and every other street stall you find would most likely sell them. Popular ones include Bratwurst (made of pork), Currywurst (sausage covered with curry-flavoured ketchup on top), and Rostbratwurst (served with a type of fermented cabbage). Given the grill-able nature of these sausages, wursts are essential elements for German barbecue or any street meal.
---
For a complete list of scholarships to study in Germany, click here.
Untuk daftar lengkap Beasiswa Kuliah ke Jerman, klik di sini.
---
3. Rouladen
To make this dish, a thinly sliced piece of meat (usually beef or pork) is wrapped around a mixture of mustard, onions, pickle, and other small ingredients inside. The wraps are then placed on a tray and simmered in broth for a few hours. This dish is extremely time-consuming to prepare, and an alternative is purchasing a pre-made rouladen from the store to then cook yourself—pop them in the oven and you're good to go!
4. Gulasch
Although this dish isn't traditionally from Germany, you can find Gulasch pretty much in numerous restaurants across the country. Gulasch is comprised of beef cut in thick slices and slow cooked in a sauce with rich spices. Some sauces are also infused with red wine, which may add to the flavour of the meat. The dish is often served with mash potato or can be consumed in soup form as well.
---
Popular University in Germany: Technische Universität Dresden. Do you have questions about studying in this university? Would you like to ask directly to the university's representative? Join Webinar Series - Study in Germany!
Universitas Populer di Jerman: Technische Universität Dresden. Punya pertanyaan mengenai kuliah di universitas ini? Ingin bertanya langsung kepada perwakilannya? Ikuti Webinar Series - Study in Germany!
---
5. Spätzle
Spätzle is a form of pasta made of eggs, flour, and salt. It's traditionally served alongside dishes that contain heavy meat, such as Schnitzel, or covered in cheese, which is somewhat resembles a traditional mac-and-cheese meal. The cheese-covered version is called Käsespätzle. This dish is very commonly served in Germany, and is completely vegetarian when not accompanied by sides of meat.
6. Rote grutze
Rote grütze is a dessert that is popular in northern Germany. The dish is made from several different berries (such as strawberries, raspberries, and blackcurrants) that is cooked and mixed with cornstarch or cornflour. The cooked juice is then served with cream, milk, or ice cream, and then topped off with a few berries used for the dessert.
---
For further information about stuyding in Germany, click here.
Untuk informasi lebih lanjut tentang Kuliah di Jerman, klik di sini.