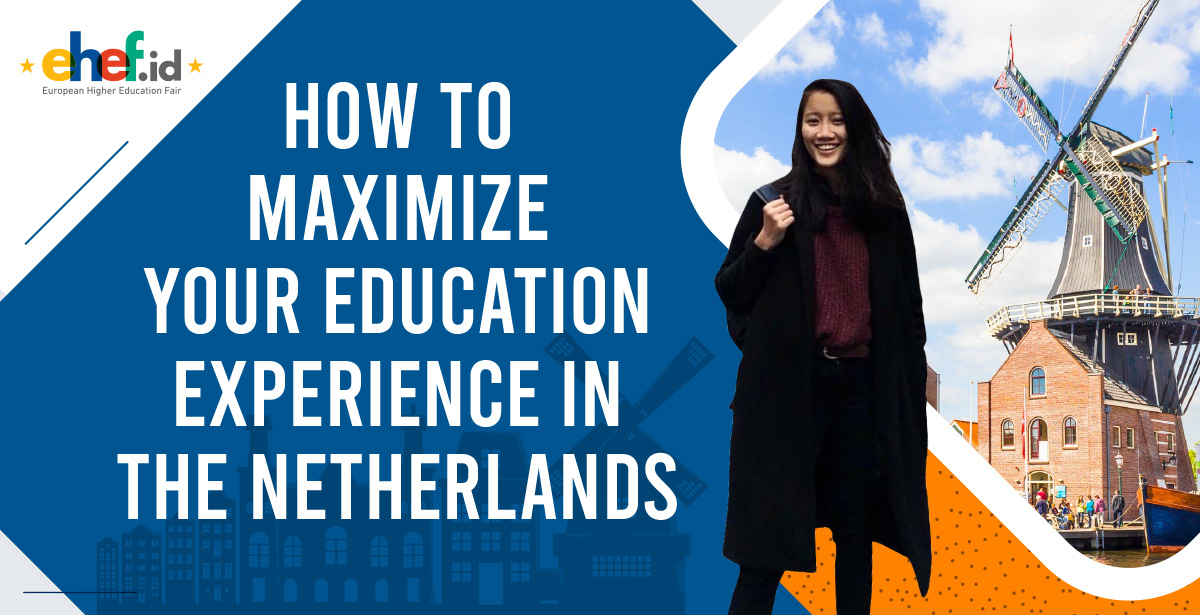 By: Irene Tanjung
---
Getting a bachelor's degree in the Netherlands is a big decision, from determining the right university that suits your ambition to thinking about your future ahead after graduation.
Despite that, the Netherlands offers various experiences for students to explore different interests with an excellent education.
Even with unlimited information online, knowing exactly what and how to prepare can be a challenge. So, to give you a clearer idea, EHEF decided to talk to Fatiha Rahma, a Bachelor's student at Erasmus University, Rotterdam, about her knowledge and experience living and studying in the Netherlands to help you prepare for your journey.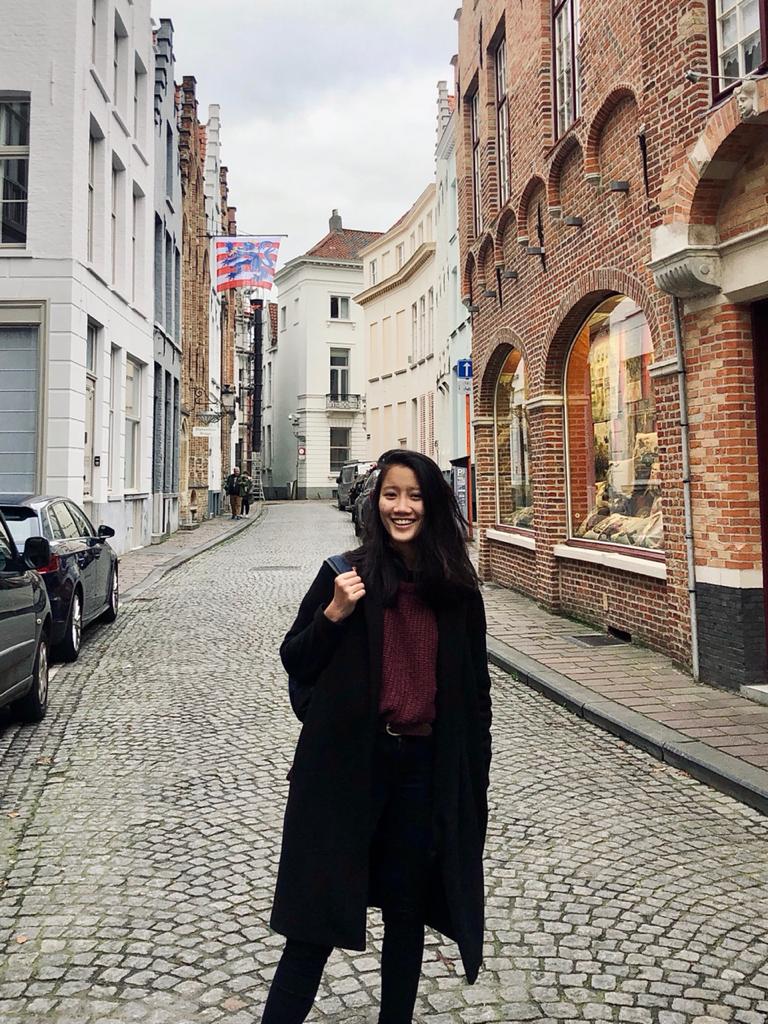 Fatiha Rahma, while traveling in Europe.
The best university is relative
Finding the right university is the cornerstone of the whole decision-making of continuing your education. When you are looking at education, quality should be the utmost priority. So, what are the variables that can help you decide the best university for you? Fatiha only focuses on three things: the spoken language of the program, the curriculum, and the rank.
Note that the right university is different for everyone, so it is essential that you go through your process in deciding which one is the best for you.
If you are an EHEF.ID member, you can compare higher education in Europe side by side to make your decision-making better! So start making a list of your potential universities and become a member now! Click here.
Since the beginning, Fatiha knew that she didn't want to learn the local language (Dutch) and preferred only to choose universities that offer programs that are taught in English. So, she short-listed universities in the Netherlands that only provide the English-taught program she's interested in and compare the programs on that list.
Next, focus on the details of the program by looking into the curriculum. Think about your major as a big tree that has different branches of focus studies. For example, if you would like to take a Communications major like Fatiha, figure out the sort of specialization you want to do. There are various options to choose from, such as journalism, public relations, or marketing communications. In fact, some universities have better resources to support specific "branches" than others. Please do your research by reading through the information that the university put out on its website. Talking to alumni who had gone through the program will also give you an idea of where you can do that degree and the specialization. From there, you can find out which universities in the Netherlands offer the program you want along with the specific study focus and decide whether their program can help you get you the skills and knowledge for the real world.
Lastly, ask yourself what you want to do after graduating. In Fatiha's case, she wanted to stay in Europe. So, she thought that having a degree from a well-reputed higher institution would leverage her chances to get more offers from companies later. Although all universities accredited in Europe have a high-quality education system, she aimed for the best. One would even argue that the rank outweighs the location. That said, she only applied to high-ranking universities in the Netherlands.
Suppose that you are also interested in working in the country or around Europe with your degree. In that case, most universities have a career center that helps students and alumni get a job in the country and around the EU. So, utilize this resource as much as you can!
After weighing her options, Erasmus University Rotterdam reigned to victory by checking all of the boxes. The university is ideally situated in Rotterdam, Netherlands, where English is widely used. Her program is taught in English, and the university offers a specialization in marketing communications, which is the pursuit Fatiha wanted. Furthermore, Erasmus is ranked by Times Higher Education (2020) as #4 in the Netherlands and #72 worldwide. It ensures that Erasmus is recognized in the country and the rest of the world.
After you have settled the fundamentals, you can commence the admission process to your chosen university!
To find the best university in the Netherlands for you, click here.
Make time to do everything you can do while studying in the Netherlands.
Erasmus University Rotterdam gives their students the freedom to choose what and how they want to learn, whether studying other subjects or gaining practical experience by doing part-time. Students can choose to focus entirely on their education or pick up some more responsibilities based on your interests along the way. As a well-rounded person, Fatiha expands her educational experience in different fields, such as academics, organization, and professional.
Academics-wise, Fatiha chose to obtain a double degree in Philosophy. As one might expect, an additional taught program demands extra assignments, reading materials, and one more thesis to complete. A double degree is excellent for students who love learning and do not mind having a more busy schedule, but if you are not sure you could make time to invest and guarantee your best work, let alone for one degree, this option may not be the best for you. And that's completely OK!
Erasmus University has many student organizations or clubs to accommodate and bring together their students' different hobbies and interests. Students can join as many of these organizations as they like and participate in various roles for their events. For example, Fatiha is assigned as social media and marketing for Erasmus Tech Community, having to be in communication major, it is natural for her to do the job. In fact, because of her experience in her organization, Fatiha is equipped to work as an intern in several companies and do freelance work. "It's a great way for students to earn some extra cash while seeing how the professional world works.," said Fatiha.
Find more information about life in the Netherlands here.
Step out of your comfort zone
After two years in university, Erasmus students can choose to do an exchange program for a semester in one of Erasmus' university partners, Europe or worldwide.
Fatiha did not miss this chance. Instead, she took the opportunity to exchange to SciencesCom of Audencia Business School in France. In 2020, Times Higher Education ranked this university as one of France's ten best business schools.
In determining where she should do the exchange program, she considers several things. First, she did not want to travel too far from the country if she needed to go back to Rotterdam. Second, Audencia Business School is located in the small city of Nantes, which means the living cost would be relatively less than in metropolitan cities like Paris.
One of the prerequisites to exchange to SciencesCom was to have a French competency level B1 certificate. This time, Fatiha did not mind studying the language and happily got the training needed for the certification. She passed the language requirement and completed the checklists of other documents, and after that, it was smooth sailing.
In the end, she was happy to inform that leaving her comfort zone has opened up a new world of adventures from the ones she lived in the Netherlands. Her classes in Audencia be delightful; She was taught by communication experts in Luxury brands such as Louis Vuitton, which had become one of her most cherished memories. Moreover, her newly developed network amongst students in France has encouraged her to aim even higher in her career.
This leads to the last point:
Enjoy every step of your experience
Now that Fatiha is in her final year as a student, she is harvesting the fruit of her hard work while being a student. She has set out her career path since she already secured full-time employment from the company she currently works at. However, she admits that her final year was brutal: She sacrificed a lot of her free time to be productive in her studies and do more extracurricular activities. Often she found herself throne between two obligations when the schedule overlaps. "There are times when I was not even sure I would pass my classes!" she recalled.
The ups and downs of having many activities were how Fatiha learned more about herself: Those challenging moments had taught her to enjoy every hiccup by taking one step at a time. It is easy to forget that the opportunity to study and live in the Netherlands is a one-of-a-lifetime moment for her, so she promised she would use her free time to enjoy the view.
From Fatiha, we learn that opportunities for university students in Europe are endless. From educational explorations to working in different places, the choice is always there for you to take. Just remember to enjoy the ride while it lasts.
So what are you waiting for? Take the first step to a world of new opportunities. The Netherlands awaits you with open arms!
---
Find Fatiha on LinkedIn here.
Fatiha currently works as a Community Manager in CodeControl, where she helps freelancers get job offers. In addition, she dedicates her free time to developing her website pilihpulih.com as a platform where Indonesians can find a suitable form of mental help.
She is looking forward to continue being a digital nomad, travel the world, and meet new people.