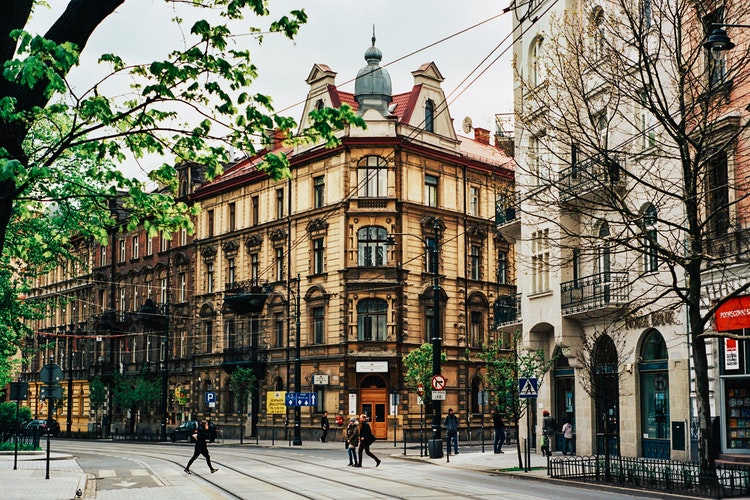 Photo by Ostap Senyuk via Unsplash
By Mia Angeline
Malcolm X once said, "Education is the passport to the future, for tomorrow belongs to those who prepare for it today."
You may have heard of Chopin, Rubinstein, Marie Curie and Copernicus. They were renowned artists and scientists either raised or studied in Poland.
Located in Central Europe, Poland has a rich cultural history expanding from the establishment of the Polish state in 966 A.D. to modern day.
Nowadays, Poland is a developed country with a high-income economy and very high standards of living, safety, life quality, and education.
So, it is safe to say Poland is highly chosen by international students to pursue higher education degrees.
As a top student destination, these are five reasons to study in Poland:
#1 The beautiful landscapes
Poland offers a wide range of activities to both lovers of the cities or the natural landscapes. Some of the natural landscapes include beaches along the shore of the Baltic Sea, the Masurian Lake, the Tatra Mountains, and many more.
The capital city of Warsaw was almost destroyed during the World War II. After the reconstruction, the Old City District became a UNESCO World Heritage Site and popular among tourists.
Students can spend their time exploring the picturesque villages or historical site and artistic architecture during their time in Poland.
---
Also read: Popular student cities in Poland
Baca juga: Kota-kota terpopuler lainnya untuk kuliah di Polandia.
---
#2 High quality education
Poland has more than 500 universities with a well-developed system.
All courses in Poland must gain the Polish Accreditation Committee's approval and are regularly monitored & evaluated.
Leading universities offer various programs in English, including engineering, humanities, medicine, business, and finance. Here are several of the highest-ranked universities in Poland:
The largest university in Poland founded in 1816 and ranked 6th in the EECA rankings. Notable alumnae including Fryderyk Chopin and Julian Tuwim.
One of the oldest academy in Europe and among the most prestigious universities in Poland. Notable alumnae including Nicolaus Copernicus (astronomer), Pope John Paul II, and several Nobel prize winners.
* Warsaw University of Technology
One of the leading technological institutes in Europe and ranked 19th in Emerging Europe and Central Asia universities. Located in Warsaw, the university covers fields of science and technology.
---
For a complete list of universities in Poland, click here.
Untuk daftar lengkap universitas di Polandia, klik di sini.
---
#3 Low tuition fees and living costs
Polish universities offer cheaper tuition fees and living costs than most of European countries.
To give an illustration, tuition fees in Poland start from 1,500 EUR to 3,000 EUR per year. However, specialized universities, like medical, may have higher tuition fees.
Other than that, the cost of living is relatively low. A shared flat in the city may cost around 100 EUR to 150 EUR, public transport is around 25 EUR per month, and there are also public bikes which available for rent.
However, the affordable living cost may vary according to one's lifestyle.
#4 Vibrant culture
Every summer, Poland held various summer festivals and is visited by the world's biggest names in music. Two of the renowned festivals are Open'er (or Polish Coachella) and OFF Festival.
Other than that, each university also has their own carnival called Juwenalia, where all classes are canceled to let students take part and party in the carnival.
Polish people also are known for their extraordinary hospitality. They won't think twice to offer a dinner invitation or a place to stay if a student has problems with arranging accommodation.
#5 Various scholarships for Non-EU students
The Polish government has several scholarships available for Non-EU students, namely:
* Ignacy Łukasiewicz Scholarship Program
The scholarship is only available for developing countries including Indonesia. The scholarship covers full tuition fees for Master program taught in Polish and Ph.D. program at public universities. The Ignacy Łukasiewicz Scholarship focuses on natural sciences, agriculture, forestry, veterinary medicine, architecture, geography, and engineering.
For further inquiries you can go to their official website here.
Poland is a part of Erasmus+ program, so Indonesian students can apply for the Erasmus Mundus Joint Master Degree (EMJMD) and Erasmus Mundus Joint Doctorates (EMJD). The Erasmus+ programs offer an opportunity to study in minimum two educational institutions listed in the European International Consortium.
---
For more information about studying in Poland, click here.
Untuk informasi lebih lanjut mengenai kuliah di Polandia, klik di sini.