Have you been dreaming of studying abroad for most of your lifetime? Are you ready to immerse yourself in the Italian way of life, breathe the artistic essence of the country and indulge in its culinary pleasures? Are you looking for world-class education in a student centred city? Join us at the University of Padua, a stimulating learning environment packed with opportunities and a flourishing social and cultural life!
A WORLD CLASS ITALIAN UNIVERSITY
As a research-intensive and multidisciplinary institution, the University of Padua offers over 197 undergraduate and postgraduate degree programmes, 45 of which are taught completely in English. Our students can select from a comprehensive portfolio ranging from Engineering to Business and Political Sciences, from Medicine to Humanities, from Psychology to Agriculture, from Law to Science. A growing number of international projects and networks, along with a significant presence within our Faculty of visiting scholars from outstanding institutions worldwide, tops off the offer.
THE UNIVER-CITY
With students accounting for over 30% of the population, Padua is genuinely student friendly! Most of the university buildings are scattered throughout the city centre and a vibrant academic atmosphere permeates the entire town.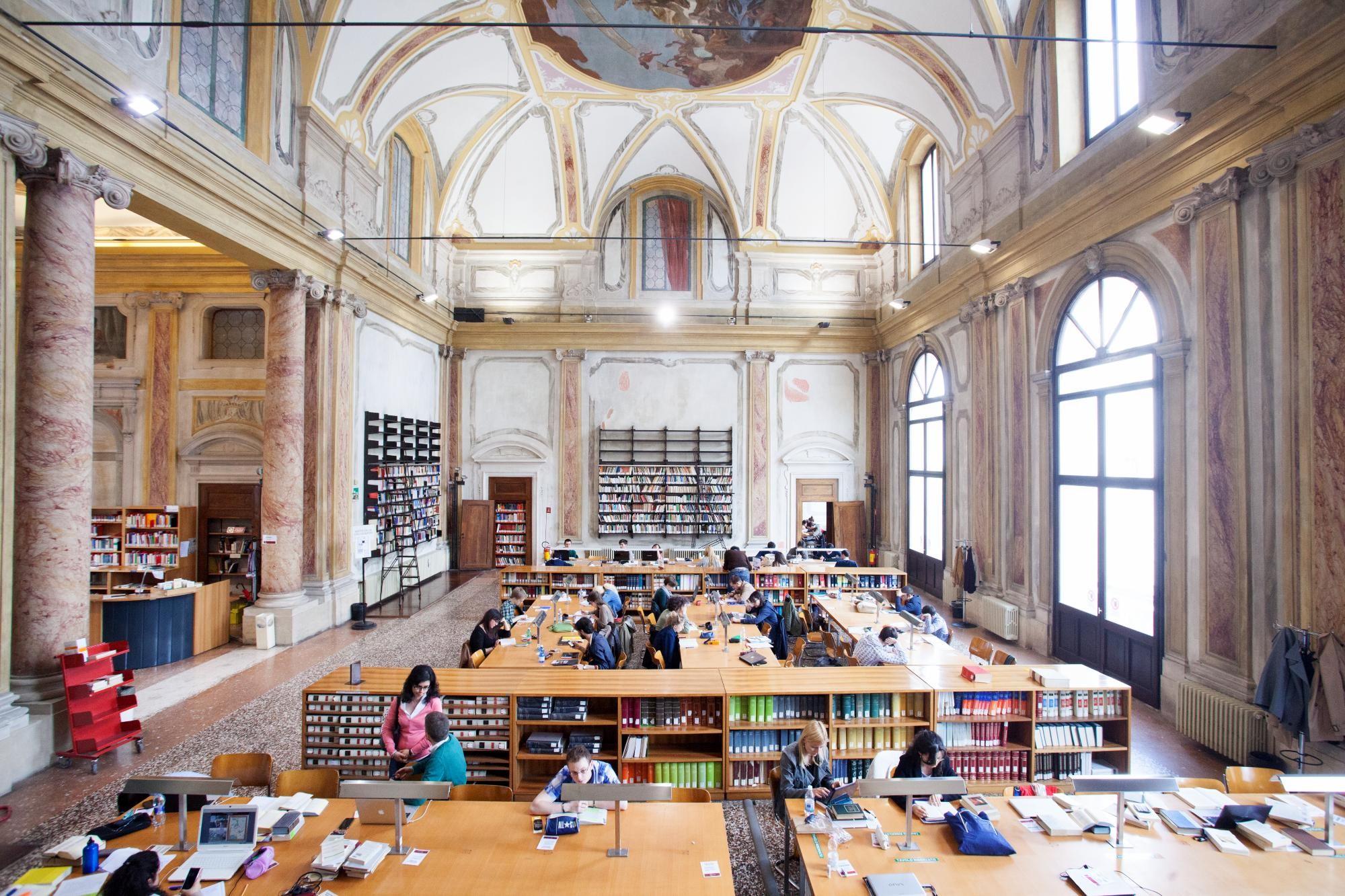 Libraries, canteens, study rooms and other facilities are conveniently located next to the main university premises, at a walking distance from one another. To reach further outwards an extended cycling path network (more than 170km) and multiple bike sharing options with special discounts for students represent the best and most sustainable way to move around the city.
As for accommodation, a wide array of solutions are available to every pocket! From Public Halls of Residence to Private Colleges, you can surely find the most suited option for your stay. If you prefer sharing a private flat with other students, our newly established housing office will assist you in the search. To stay fit the CUS (Centro Universitario Sportivo - University Sports Centre) provides two large sport facilities where you can practice your favourite sports (athletics, rugby, volleyball, basketball, boat races…) both at amateur and competitive level. Our athletes will also have the chance to represent the University in local and national Championships!
Living in Padua means most of all experiencing Italian arts, culture and lifestyle to the fullest. Our historical centre, with picturesque squares, palaces and museums, is appreciated by thousands of tourists every year. The city is extremely lively and dynamic offering numerous events in the fields of art, music, theatre, cinema and sport throughout the year.
And there's more: another perk of studying in Padua is its ideal location. Thanks to its proximity to Venice, Verona, the Alps and Lake Garda, international students can take full advantage of the study abroad experience and explore some of the world's most famous travel destinations thanks to an efficient air, rail and road transportation links.
All with the advantage to live in quite an affordable city!
SCHOLARSHIPS & FUNDING OPPORTUNITIES
The University of Padua has always been committed to promote a culture of inclusivity, sustainability and accessibility to education for all. Our tuition fees are extremely competitive when compared to those of other top-ranking universities, and are balanced to your financial standing. A wide range of scholarships and fee waiver opportunities are also available to international students. Amongst our merit-based scholarships, the Padua International Excellence Scholarship, specifically designed for highly talented prospective students wishing to pursue their studies in Padua, rewards excellent academic merit.
OUR STUDENTS
Admissions and Welcome Unit will guide you from the very beginning of your journey! As a newly arrived international student you will be assigned to a Buddy, a senior University student - and a new friend - who will help you settle in during the first (and probably toughest!) weeks in Padua. During this phase, you could also count on the support of our SAOS Desk, a service specifically dedicated to international students to assist them with all immigration-related burdens.
A language course is also optioned by most of our international students: knowing basic Italian can be useful in many real-life situations, and help blend in with the locals! Intensive Italian Language Courses are offered free of charge to our international students just before the academic year starts!
Managing your study time, filling in the study plan, preparing for exams, or simply orienteering in your department are made easier thanks to our Tutoring Service: here your peers will be happy to assist with the different academic necessities. Specific tools and services cater to students with disabilities and/or specific learning disabilities to ensure they can smoothly pursue their academic goals.
The focus on our students has become even more crucial during the pandemic. The challenges of the past year gave a boost to some Special initiatives and stimulated massive investments on the newest infrastructure technologies. The fast implementation of "blended" (both online and on-campus) and "dual" (online or on-campus) learning has allowed all of our students to attend classes, exams and graduations, and keep feeling part of our great community, even when prevented from being physically with us.
GRADUATING FROM A TOP RANKED UNIVERISTY
According to the QS Employability Ranking 2020 the university places within the 151-160 position in terms of how well we guarantee graduates a successful career.
Our Career Service is the dedicated service to find opportunities of extracurricular internships and work placements both in Italy and abroad. Various initiatives are organised throughout the year with the aim to provide you with the greatest possible number of significant work opportunities in your field of study.
Choosing the path of Academy and Research is also a valuable option, since our University is recognised as the best in Italy for research quality. Over 40 PhD programmes in various areas will give you the opportunity to join our academic staff in the development of ground breaking research.
After your well-deserved graduation, when you will finally become an Alumnus, endless possibilities will display ahead of you! You will be ready to bring your excellent expertise to the world, proudly carrying with you the awareness of belonging to a long-established community that has been leading global change since 1222.
THE UNIVERSITY OF PADUA
With its 800 years of history, the University of Padua is an institution in the italian higher education panorama. A vibrant teaching environment permeates its walls and it is a pride for the city itself. Key contributions to the advancement of knowledge, science and society have been produced inside its buildings by welcoming some of the most prominent figures of history, Copernicus and Galileo Galiei are just some of its many examples.
History and modernity, art and innovation meet within the Palazzo Bo', the cradle to historical events: among many here Elena Lucrezia Cornaro Piscopia was the first woman in the world to be awarded a university degree in 1678.
Defending freedom of thought in study and teaching became a distinctive feature which today lives on in the University motto: Universa Universis Patavina Libertas. The university also vaunts a magnificent university botanical garden and a permanent anatomical theatre, the firsts in history of their kind.
Thanks to research and teaching facilities located in various cities of the Veneto region (Vicenza, Treviso, Rovigo, Chioggia-Venice) the University of Padua has developed strong networks and consolidated its presence on the territory. The University now can count on more than 60,000 students and over 4,000 staff personnel. International students here are assured to find a stimulating learning environment in a world's top-250 university and a welcoming city thanks to its expanding international community.
Given this 360° experience it is no surprise that our students are enthusiasts about studying with us: according to Almalaurea National Graduate Survey 90% of them are highly satisfied with their academic career. Find out why over 60,000 students have chosen the University of Padua for their studies.
To know more about us visit our website or if you are ready, begin your experience here!