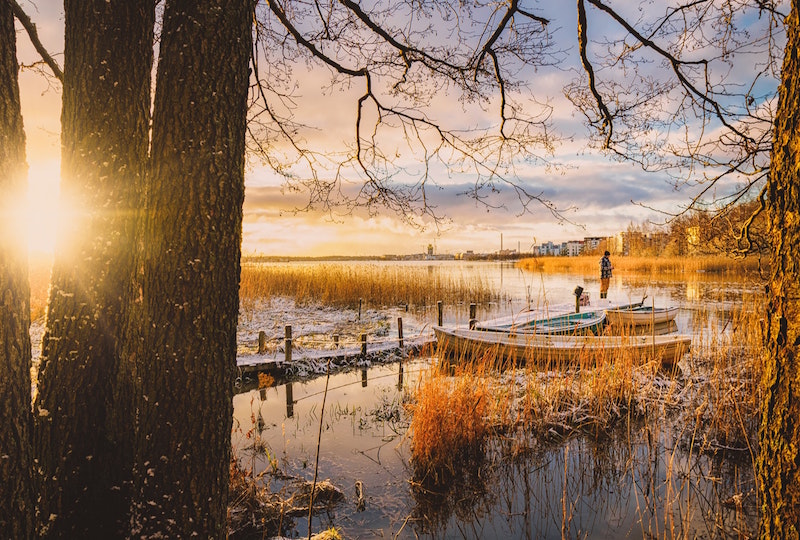 Photo by Carlos "Grury" Santos via Unsplash
By Mia Angeline
Finland has one of the high-quality education systems in the world.
This statement alone should make you start considering to study in Finland.
However, if you are still unsure, we also have several additional reasons to study in Finland:
---
For a complete list of universities in Finland, click here.
Untuk daftar lengkap universitas di Finlandia, klik di sini.
---
1. Low Crime Rates
Finland has an extraordinarily low crime rates, even named as the safest country in the world for 2017 by World Economic Forum. The wildlife in Finland is the greatest risk to public safety, not petty crimes or terrorism. Literally, a moose crossing the road is the biggest threat to your safety when in rural areas.
2. Diverse Community
With more than 10,000 international students, studying in Finland offers an amazing opportunity for you to socialize and meet new people from different countries. To help you settle down in Finland, most universities have international student ambassadors. They can take you around the city, help with your applications, or even help you to find a part-time job.
3. Strong Local Culture
Finns have generally liberal attitudes, meaning there is very little chance of your behavior would damage the relations between yourself and the locals. However, keep in mind that Finns place a considerable value on words. They tend to take words and speech seriously and avoid unnecessary small talks. As the Finnish proverb puts it, "Take a man by his words and a bull by its horns." Other than that, Finnish people have a strong culture and a great passion towards coffee. Finns drink more coffee than anywhere else in the world. In the capital city, you will find many cafes, art galleries, and clubs.
4. High Fluency in English
Finns' mother language is Finnish and Swedish, however, most people in Finland speak English very well. So, you won't have any problem in communicating with the locals. More than that, you don't have to worry about having courses in Finnish because universities in Finland offer more than 450 programs in English, from short summer courses to full degree courses. If you are interested in studying Finnish, you can apply to the Summer Universities that offers Finnish language and a cultural course on many different levels.
---
Popular university in Finland: University of Jyväskylä
Universitas Populer di Finlandia: University of Jyväskylä
---
5. Places to Visit
Finland is located in the northern part of European continent. It is a country with breathtaking landscapes since most parts of the country have pristine lakes and green forests that you can explore. If you are studying in Finland, you can have a number of exhilarating outdoor activities, such as fishing, skiing, boating, kayaking, golfing, etc. Finland is also one of the best locations to spot the Northern Lights – or the Aurora Borealis. Don't worry if you are not an outdoorsy type, you can check out the flea markets and art galleries, enjoy the local cuisine, or experience the famous Finnish sauna.
6. Comfortable Living Conditions
Student apartments in Finland are modern and comfortable. You will probably find a sauna in your apartment building or complex, and usually, the sauna is included in the rent price. Also, most cities in Finland built within the forest area, so you will have a high chance to have a beautiful view from your apartment's window. The student housing office is known to give answers quickly to your email if you have any questions about finding an accommodation.
7. Plenty of Scholarships Opportunities
Finland is a country that take a great care in education. Therefore, most of Finnish universities offer scholarship options for gifted non-EU students. These scholarships usually based on your academic performance and have different types. For example, full or partial fee waivers, performance-based refunds, living cost allowance, etc. You should check information about scholarships directly from your preferred university webpage. One last thing, tuition fees are free for Doctoral studies and for courses offered in Finnish or Swedish.
So, what are you waiting for? Check out the list of universities in Finland on ehef.id. Start preparing your journey to study in Finland!
---
For more information about studying in Finland, click here.
Untuk info lebih lanjut tentang Kuliah di Finlandia, klik di sini.