Source: https://eeas.europa.eu/delegations/indonesia/31211/225-indonesian-students-study-europe-eus-erasmus-plus-scholarships_en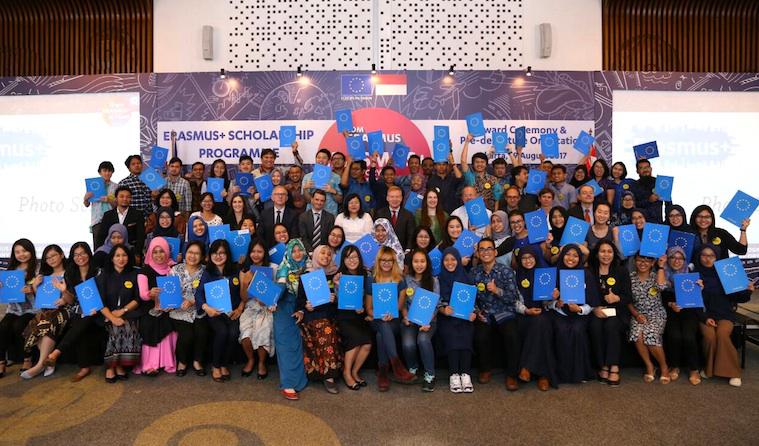 A total of 225 Indonesian students and lecturers have been awarded scholarships under the Erasmus+ (Erasmus Plus) Programme – funded by the European Union (EU) – this year. Soon the awardees will travel to various EU Member States to undertake a Bachelor, Master, Doctorate or Post-Doctorate studies, either full degrees or short-term exchange programmes, for the academic year 2017. Some of the Erasmus+ awardees will study in at least two different universities located in two different European countries.
During the award ceremony today (19/8) in Jakarta, the EU Ambassador Vincent Guérend and the Director for American and European Intraregional and Interregional Cooperation of the Ministry of Foreign Affairs Dewi Gustina Tobing congratulated all awardees on their success in obtaining the Erasmus+ scholarships.
Since 2004, more than 1,400 Indonesian students have benefitted from EU's Erasmus+ scholarship programme. Every year, the EU and its Member States award more than 1,600 scholarships to Indonesian students for studies in Europe. In addition to Erasmus+ Scholarships, the EU – in collaboration with ASEAN – is also providing 500 scholarships for ASEAN students through the EU Support to Higher Education in ASEAN Region (SHARE) programme.
"These European scholarships offer a lifetime opportunity to learn more about European cultures, languages, academic systems and, not least, people at some of the best universities in Europe. Apart from improving student's expertise, the scholarships are also meant to enrich young people's life experience and help create mutual understanding and openness between people and cultures. We hope that these scholarships will help them to further excel in their field of expertise and that upon return to Indonesia they will come back with enhanced skills and knowledge useful for their country and themselves, as well as fond memories of Europe," said Ambassador Guérend.
In his remarks representing Bachelor exchange student, Angelo Wijaya said "I plan to study abroad to learn from other country, so that in the future, I can contribute my knowledge and experience to build my country". Similarly, Caroline Herawati Manik, a representative of the Master's Degree students, said "Studying abroad will open more opportunities and bring me closer to be a professional who will give back to my country and community. We hope we can encourage other Indonesian to dare to dream and realise their dream to study in Europe". As a Doctor candidate, Risma Yulistiana said "Through my research, I hope that I will be able to learn how to build research collaboration which will contribute to strengthen science and technology in Indonesia as well as Indonesia and EU relationships".
Europe is increasingly becoming a popular destination for Indonesian students seeking to study overseas. More than 6,000 Indonesian students departed for Europe to pursue their undergraduate and post-graduate degrees in 2016. In total, around 9,600 Indonesian students are currently studying in Europe. "The EU warmly welcomes Indonesians who wish to pursue the best educational opportunities that Europe has to offer. There are more than 4,000 higher education institutions in Europe and over 15,000 master's degrees in Europe taught in English. Many of them can be found among the top 100 universities in the world, offering state-of-art facilities and countless research opportunities," added Ambassador Guérend.
====
About the European Union
The European Union (EU) is a unique grouping of 28 independent countries with more than 510 million citizens living within its boundaries. The 28 EU Member States are (in alphabetical order): Austria, Belgium, Bulgaria, Croatia, Cyprus, Czech Republic, Denmark, Estonia, Finland, France, Germany, Greece, Hungary, Ireland, Italy, Latvia, Lithuania, Luxembourg, Malta, Netherlands, Poland, Portugal, Romania, Slovakia, Slovenia, Spain, Sweden and the United Kingdom.
About Erasmus Plus (Erasmus+)
Erasmus+ is the €16 billion EU-financed programme for education, training, youth and sport. It is built on the well-known and respected EU brand of the highly successful Erasmus student exchange programme. Erasmus+ combines the previous seven EU-supported programmes, namely: Tempus, Leonardo, Erasmus, Erasmus Mundus, Alfa, Comenius and Edulink. Application for the Erasmus+ Master Course starting for academic year of 2018 will open around October 2017. Further information on the Erasmus+ Scholarship programme can be found at: http://bit.ly/erasmusplusINDONESIA
or directly access:
Erasmus+ Master Course scholarships: http://bit.ly/EM-emmc Erasmus+ Joint Doctorate scholarships: http://bit.ly/EM-emjd This year, the EU is celebrating the 30th anniversary of the Erasmus+ programme.
About EU SHARE Scholarships
Officially launched in May 2015, SHARE is a €10 million EU grant funded programme with the principal objective of strengthening regional cooperation, enhancing the quality, competitiveness and internationalisation of ASEAN higher education institutions and students, and contributing to an ASEAN Community. From 2016 onwards, SHARE provides some 500 scholarships for ASEAN university students to put the improved systems to the test, mainly by supporting student exchange and credit recognition within the ASEAN region. ASEAN is working with a consortium – led by British Council and comprising the DAAD, EP-Nuffic, Campus France, ENQA and EUA – between 2015 and 2018 to implement SHARE. All application details, requirements and deadlines can be found at www.share-asean.eu/scholarship
About the Bologna Process
The Bologna Process is an important process of harmonising various higher education systems in Europe. The overarching aim of the process is to create a European Higher Education Area (EHEA). For more info:
http://ec.europa.eu/education/policy/higher-education/bologna-process_en.htm