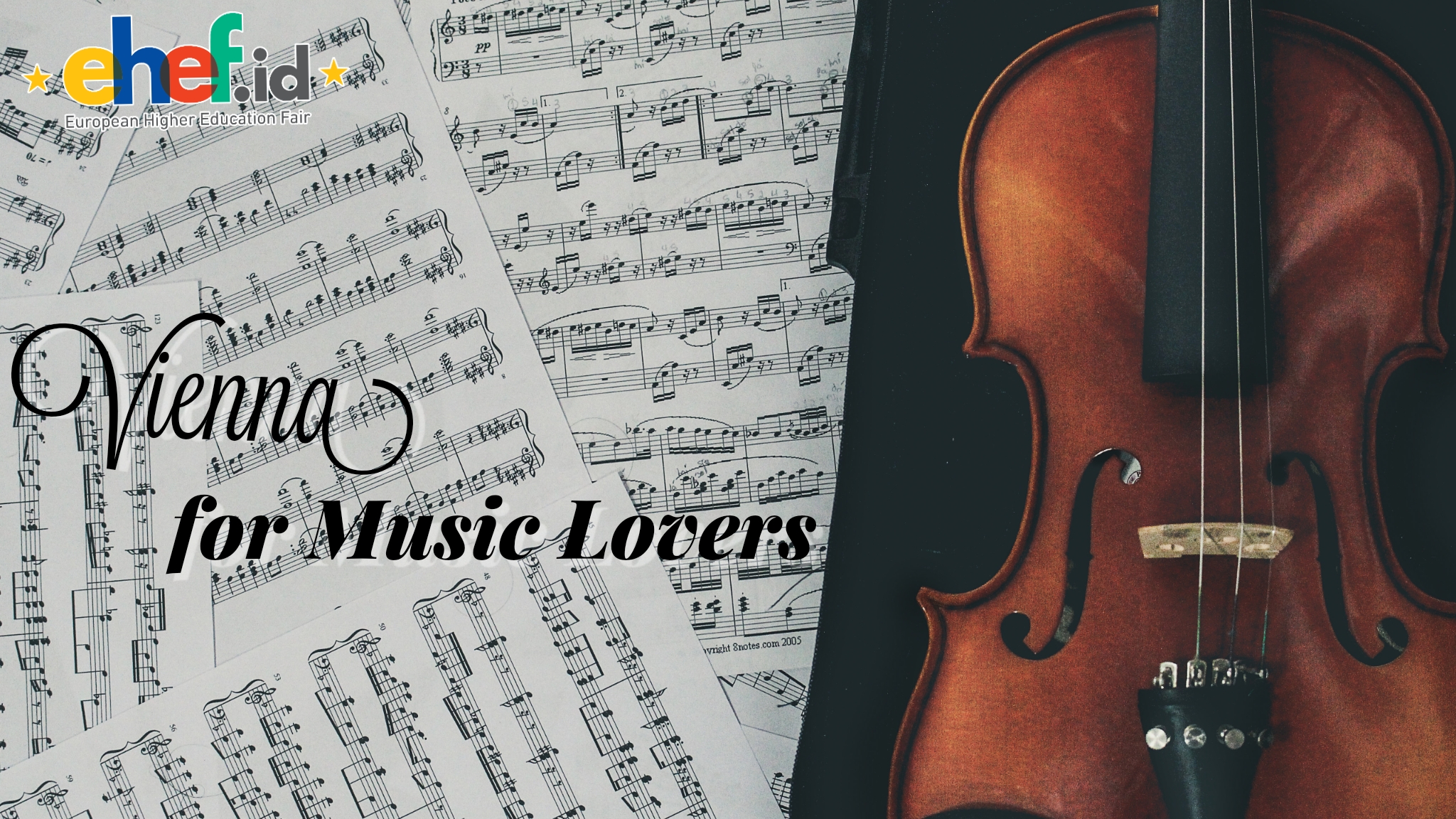 By Jenny Egnér Lin
---
Introduction
Vienna, Austria is often referred to as the world's music capital. More famous composers have lived in Vienna than in any other city. Mozart, Haydn, and Beethoven spent most of their working lives in the city and have had a great influence in music history. The city's concert halls and stages offer the whole range from classical to progressive sounds with end-to-end festivals the whole year through.
Regardless of what subject you are studying in the Austrian capital, the rich heritage of classical music will be of inspiration to anyone. Below are brief descriptions of the most notable Austrian composers, and the Viennese venues where you in modern day can enjoy their masterpieces.
Famous composers through Viennese history
Wolfgang Amadeus Mozart
Wolfgang Amadeus Mozart, baptised as Johannes Chrysostomus Wolfgangus Theophilus Mozart, was a prolific and influential composer of the classical era. Born in Salzburg in 1756, Mozart showed prodigious ability from his earliest childhood. Having composed over 600 works before is early death at age 35, Mozart remains one of the composers most widely associated with classical music.
Joseph Haydn
Franz Joseph Haydn was one of the most important figures in the development of the Classical style in music during the 18th century. Born 1732 in Rohrau, he was instrumental in the development of chamber music such as the piano trio, and his contributions to musical form have earned him the epithets "Father of the Symphony" and "Father of the String Quartet".
Ludwig van Beethoven
Ludwig van Beethoven was a German composer and pianist. Born in Bonn in 1770, Beethoven was merely 17 years old when he first traveled to Vienna to study under Mozart. A crucial figure in the transition between the classical and romantic eras in classical music, he remains one of the most recognized and influential musicians of this period, and is considered to be one of the greatest composers of all time.
Franz Schubert
Franz Peter Schubert, born 1797 in Vienna, was an Austrian composer of the late Classical and early Romantic eras. Despite his short lifetime, Schubert left behind a vast oeuvre, including more than 600 vocal works, seven complete symphonies, operas, incidental music and a large body of piano and chamber music.
Johann Strauss II
Johann Strauss II, born 1825 in Vienna as the eldest son of Johann Strauss, was a composer famous for his Viennese waltzes and operettas. In his lifetime, he was known as "The Waltz King", and was largely responsible for the popularity of the waltz in Vienna during the 19th century. During his active years, he composed over 500 waltzes, polkas, quadrilles, and other types of dance music, as well as operettas and a ballet.
Arnold Schönberg
Arnold Schönberg (1874 Vienna - 1951 Los Angeles), radically developed the art of composing through the use of atonality and the twelve-tone technique. He is considered one of the most important and influential composers of the 20th century, and his contribution to music was widely disputed.
Where to listen to music?
Now that you are familiar with some of the most influential composers having lived in Vienna, which are the best venues where you are able to enjoy their works? The many concert halls in Vienna are works of art in themselves. Read more about the most famous concert venues below.
Vienna State Opera
Wiener Staatsoper, The Vienna State Opera, was opened in 1869, and is one of the most important opera houses in the world - a stage for the most renowned international opera stars. Here you can enjoy variety on the highest level. About 50 operas and 20 ballets are performed on 300 days every year, with performances changing every day.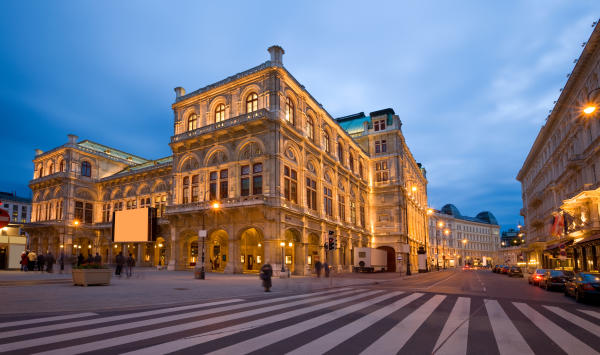 Photograph courtesy of iStock.
Theater an der Wien
Theater an der Wien was opened in 1778, and is a notable part of musical history. Emanuel Schikaneder, the talented librettist of Mozart's "Die Zauberflöte," was its director, Beethoven lived for a time in the building, and his opera "Fidelio" had its premiere there. Nowadays, a monthly premiere awaits opera-lovers, from Mozart to modern opera.
Vienna Musikverein
Millions of music lovers all over the world are familiar with the Vienna Musikverein as a traditional concert venue. From its Golden Hall, the annual New Year's Concert with the Vienna Philharmonic is broadcast internationally.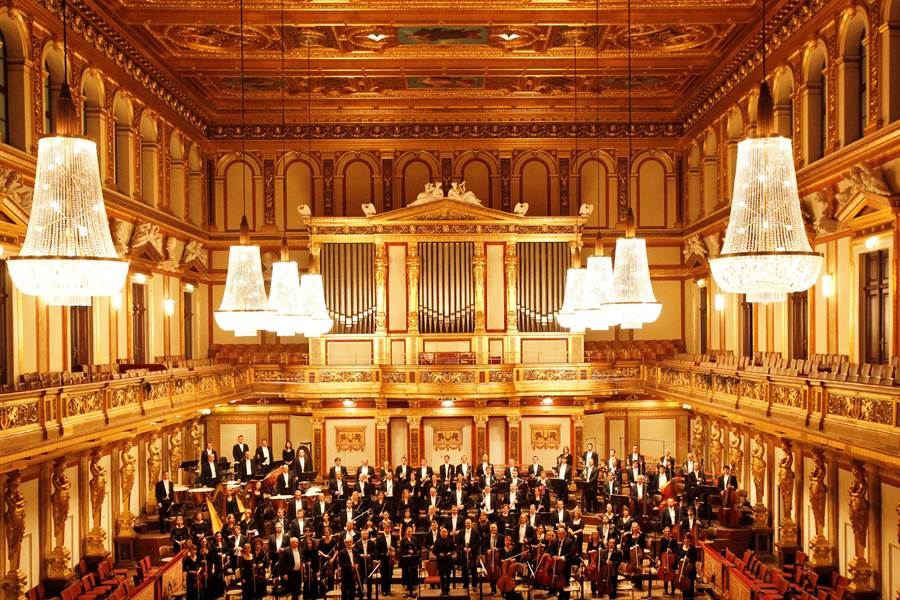 Photograph courtesy of Vienna Musikverein.
Vienna Volksoper
A diverse program can be found at the Vienna Volksoper, where not only operas but also classic operettas, musicals, and first-class ballet performances are shown.
Vienna Kammeroper
Rarities of the musical theater are shown at the Vienna Kammeroper. Seldomly shown operettas, musicals and musical plays are featured here, as well as baroque and modern operas.
Vienna Konzerthaus
An additional center of concert life is the Vienna Konzerthaus with its art nouveau ambiance. Its musical scope is not limited to the classical repertoire but ranges from the Middle Ages to the most progressive sounds of the present time. In addition to these two renowned buildings, there are dozens of concert halls where great sound is the order of the day.
---
About the author: Jenny Egnér Lin is a Swedish university graduate with a MSc in Strategic Market Creation from Copenhagen Business School, and a BSc in Business and Economics from Stockholm School of Economics. With firsthand experience from studying in Europe, she is sharing prime insights about life as a student at a European university.