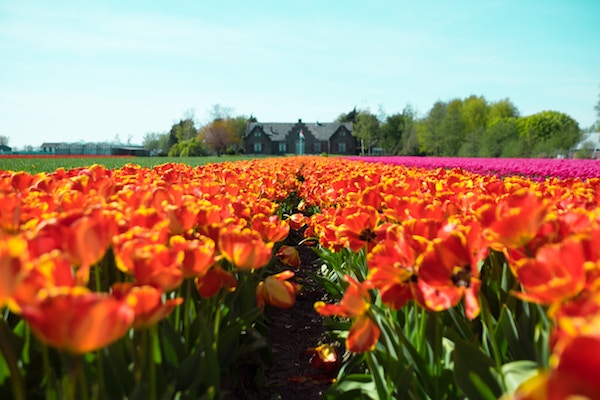 Photo by Owen Williams on Unsplash
By Rebecca Isjwara
Despite having a significant portion of its altitude below sea level, everything else in the Netherlands is anything but! There is more beyond to this country than just windmills and tulips. In fact, it's one of the most mature and wealthy countries not just in Europe, but in the world. Student cities are scattered around the nation, and biking from one place to another is so habitual that the people learn to skirt through life on those two wheels.
The Netherlands' development can be attributed to their education system, with their higher education being one of the oldest in the world. There are 13 universities that are included in the current 2018 QS World University rankings, and eight of them are within the top 150 worldwide. Tuition rates are generally favorable, and English is commonly used as mediums of instructions as most of the Dutch speak it as their second language. It comes as no surprise that the Netherlands is one of the target countries for international students to study in.
Have I heard of any of these universities?
The oldest and the largest university is Delft University of Technology (TU Delft), which is currently 54th in the world. Joining TU Delft in the top are University of Amsterdam, Eindhoven University of Technology, Leiden University, Utrecht University, and University of Groningen.
Sounds good… but I need a scholarship to go there, though
Fear not, the Dutch government understands the importance of having international students to enrich their educational environment and boasts a few scholarship programs to attract bright minds such as yourself. Here are four schemes you can apply to:
1. Studeren in Nederland (StuNed)
StuNed rewards full scholarships for students wishing to pursue non-degree programs at a master level. This is the only bilateral scholarship program offered between their government in coopoeration with ours, so study fields in relevant areas are taken as priority, such as agriculture, health management, and transportation and logistics.
Criteria:
Indonesian Nationality proven by ID or Passport
Obtained minimum Bachelor's/ D4 degree with minimum GPA 3,00 (StuNed Master) / 2,75 (StuNed Short Course)
Fresh Graduate or Employee eligible to apply for StuNed Master, 2 years of working experience for StuNed Short Course
Received Letter of Acceptance (unconditional) from one of the Dutch Higher Education Institution
Obtained English proficiency certificate with minimum score of IELTS 6,0 / TOEFL iBT 80 for Master ad IELTS 5,5 / TOEFL iBT 68 for Short Course.
No age limit
2. Netherlands Fellowship Program (NFP)
NFP is a program created by the Ministry of Foreign Affairs of the Netherlands and is targeted towards students pursuing a Masters and/or PhD degree. Prospective applicants should note that this scheme needs an endorsement from an organization he or she belongs to, and the purpose of taking up this program is to complement their skills with ones relevant to their organization.
Criteria:
hold a nationality of, working and living in one of the NFP partner's countries;
Provide employer's statement that complies with the format Nuffic has provided.
must not be employed by an organisation that has its own means of staff-development.
must not receive more than one fellowship for courses that take place at the same time;
must have a government statement that meets the requirements of the country in which the employer is established (if applicable).
3. Orange Tulip Scholarships (OTS)
OTS is a partial scholarship offered for Indonesian citizens and covers students pursuing a foundation, bachelor, or masters degree. If your desired university is listed in the OTS scheme, you should consider applying for this to support your studies.
Criteria:
Indonesian Citizens (OTS Indonesia)
Not currently studying or working in the Netherlands
Application for targeted study program at one of the Dutch universities has started or has been admitted proven by Letter of Acceptance
Meet the special conditions required by the Orange Tulip Scholarship scheme (per university may vary)
4. Holland Scholarships
This scheme is piloted by the Ministry of Education, Culture, and Sciences of the Netherlands and is made possible by the cooperation with several universities in the country. It is a partial scholarship scheme that offers 5,000 EUR for the first year of study, and is intended for non-EEA (European Economic Area) prospective students.
Criteria:
non-EEA nationality
have started admission process at Holland Scholarship's partner universities for a full-time bachelor's or master's programme
meet the specific requirements of the institution of your choice
Do not have a degree from Dutch education institution before applying Holland Scholarship
For more information on studying in the Netherlands, check out our country page here.